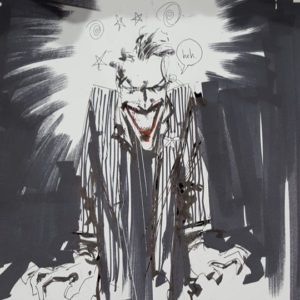 Press Release:
One of the most requested commission opportunities is here!
Jock, artist of Batman Who Laughs is offering some Sketch Commissions on Blank Comics OR on 9×12 Art Board. Contact Plash Page Comic Art for more details: www.splashpageart.com
The character choices will be of versions of Batman, Joker or Wolverine.
We have SIX opportunities for $600 each on 9×12 art board or
$615 on sketch blank (includes a clean Grim Knight #1 blank sketch) + shipping each (if you need the sketch shipped)
The pieces will be delivered to me at San Diego Comic Con and may be picked up by the end of the show or shipped out the last week in July.
Please go through the checkout process on the website to purchase your spot as they are listed as physical items. You will be emailed once you have tentatively reserved your spot.