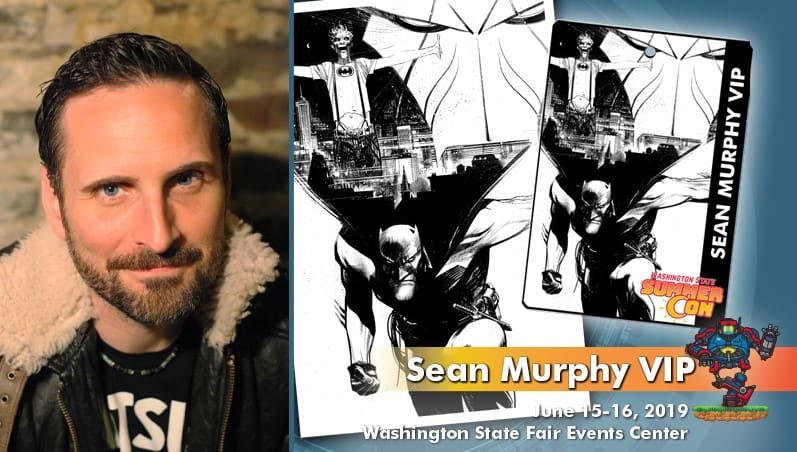 Washington State Summer Con hosts an after hours VIP Event with SEAN G. MURPHY.
How would you like to sit down and have a beer with an amazing DC artist and writer at the Washington State Summer Con? What if the creator of BATMAN: WHITE KNIGHT also tossed in an exclusive print from his yet to be released series BATMAN: CURSE OF THE WHITE KNIGHT? Here's your chance for an awesome event after the close of Day 1 at Sean's only west coast convention appearance in 2019.
Open to all Saturday Admission ticket holders:
https://www.wasummercon.com/product/murphy-vip/
(1) Admission to the Sean Murphy VIP After Party held in the Summer Con Beer Garden on Saturday June 15th from 6:30 pm to 7:30 pm
(1) Exclusive 12 x 18 print signed by Sean Murphy from his newest book The Curse of the White Knight
Up to 5 signatures on books or statues
(1) Sean Murphy VIP badge and Summer Con Lanyard
(1) drink (beer or wine) from the bar
These tickets do not include admission to the Washington State Summer Con, but only this VIP event. Tickets are limited, so get yours quickly. Ticket holders to the VIP event will be able to enter the VIP Room at 6 pm as the show floor is cleared. The show floor will remained closed during the VIP event. 21+ only.
For further information please go to the website: www.wasummercon.com