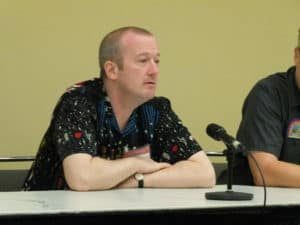 Press Release:
The Baltimore Comic-Con is thrilled to announce the return of legendary comics writer Garth Ennis as a 2019 guest.
Multiple award-winning Garth Ennis broke into the American Comic scene in 1991, taking over the writing reins on Hellblazer. after making a name for himself in the UK writing Judge Dredd. After a successful four-year run, Ennis moved on to create Preacher, a 66-issue epic that ran from 1995 -2000. In addition to these two ground-breaking series, he also had lengthy runs on DC's The Demon and Hitman. At Marvel Comics, Ennis wrote Punisher and Fury.
He later wrote The Boys, a 72-issue story which began at DC's Wildstorm imprint before moving to Dynamite Entertainment with issue #7. He has also penned titles such as Battlefields at Dynamite Entertainment, and Crossed and War Stories at Avatar Press. His more recent work includes titles such as Jimmy's Bastards, Walk through Hell, AfterShock Shock, and the original graphic novel Out of the Blue for AfterShock Comics, and World of Tanks: Citadel for Dark Horse Comics.
You can watch and enjoy on-screen adaptations of Ennis' Preacher on AMC, and July 26, 2019 will see the premiere of The Boys on Amazon Prime Video.
"This is fantastic," said Marc Nathan, show promoter for the Baltimore Comic-Con. "Garth is one of the most prolific writers in comics for decades. His body of work is widely read and enjoyed. A number of his properties have been adapted to screen now, allowing a new generation of fans to know and love him as we do, and we're thrilled to enable them all a chance to meet Garth!"
Visit www.baltimorecomiccon.com/tickets for more information and to purchase your advanced tickets!
In the coming weeks, look for more announcements from the Baltimore Comic-Con. We are looking forward to highlighting our guests, the Ringo Awards, industry exclusives, and programming. The latest developments can always be found on our website, Twitter, Instagram, and Facebook pages.