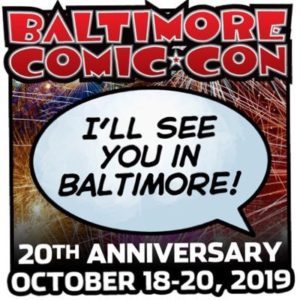 Press Release:
The Baltimore Comic-Con is pleased to announce all-star comics writers Brian Azzarello, Amy Chu, Greg Pak, and Robert Venditti as 2019 guests. Baltimore Comic-Con returns to the Baltimore Convention Center on October 18-20, 2019 in the beautiful Inner Harbor.
Brian Azzarello has been writing comics professionally since the mid-1990s. He is the author of Spaceman, Batman: Broken City, and came to prominence with the Harvey and Eisner Award-winning hard-boiled crime series 100 Bullets, published by DC Comics' mature-audience imprint Vertigo. The New York Times best-selling author's other work for includes Moonshine, Wednesday Comics, Hellblazer, Loveless, Superman: For Tomorrow, Joker, Luthor, Before Watchmen: Rorschach, Before Watchmen: Comedian, Sgt. Rock: Between Hell and a Hard Place, DKIII: The Master Race, and Wonder Woman at DC Comics, as well as Startling Stories: Banner, Cage, and Spider-Man's Tangled Web at Marvel.
Amy Chu writes comics like Green Hornet, Dejah Thoris, and Red Sonja for Dynamite Entertainment. She has also written Catalyst Prime SUMMIT for Lion Forge, KISS comics, including KISS: The End, at Dynamite Entertainment, a Poison Ivy mini-series and Wonder Woman stories for DC Comics, and Emma Frost, Deadpool, and Ant-Man stories for Marvel Comics. Amy is a co-founder of Alpha Girl Comics, which published Girls Night Out and other titles. She is a frequent comic-con speaker and moderator, and you'll likely find her doing so in Baltimore too. Amy is a coffee guzzler, a Lego hoarder, and a whiskey drinker.
Greg Pak has written over 475 comic books, including storylines like Planet Hulk (which inspired parts of the Thor: Ragnarok feature film), Mech Cadet Yu (which won the 2018 Mike Wieringo Spirit Award), and Action Comics. Pak's children's books include The Princess Who Saved Herself, The Princess Who Saved Her Friends, and ABC Disgusting. Pak is currently writing Ronin Island, James Bond 007, Star Wars, Firefly, and New Agents of Atlas. He co-wrote Make Comics Like the Pros with Fred Van Lente and recently launched a Patreon filled with tips for writing comics at patreon.com/gregpak.
Robert Venditti is a New York Times best-selling author whose characters and concepts have been adapted to film and television. He has written the monthly comic book series X-O Manowar for Valiant, Hal Jordan and the Green Lantern Corps, Green Lantern, and The Flash for DC Comics, and the children's novel series Miles Taylor and the Golden Cape for Simon & Schuster. His current projects include Hawkman, Freedom Fighters, and the Vertigo graphic novel Six Days.
Visit www.baltimorecomiccon.com/tickets for more information and to purchase your advanced tickets!
In the coming weeks, look for more announcements from the Baltimore Comic-Con. We are looking forward to highlighting our guests, the Ringo Awards, industry exclusives, and programming. The latest developments can always be found on our website, Twitter, Instagram, and Facebook pages.