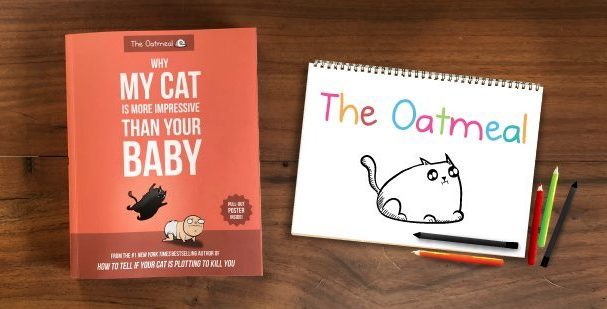 Press Release:
Matthew Inman, Eisner Award-winning creator of The Oatmeal and #1 New York Times bestselling author of How to Tell If Your Cat Is Plotting To Kill You is definitely not impressed by the new addition to your family. Why My Cat Is More Impressive Than Your Baby hilariously outlines why. He appears at the Strand on Thursday, June 6, 2019 at 7 PM.
Oatmeal enthusiasts will revel in the incomparable humor in the comics (many never-before-seen) featuring cats, babies, dogs, lasers, selfies, pigeons and more in Inman's first new collection in more than four years. In it, Inman wryly describes the joy and terror that accompany owning the confusing balls of violence and tenderness known as cats. With useful guides such as "10 ways to befriend a misanthropic cat" and "How to hold a baby when you are not used to holding babies," Inman's clever wit and incisive humor is signature Oatmeal.
The Oatmeal's popularity is remarkable, and Inman's Internet influence undeniable. With more than 7 million visitors to The Oatmeal.com each month, 4 million+ Facebook fans, and nearly 1 million Instagram followers, his position as a leading web comic creator is secure and continues
to grow.
Why My Cat is More Impressive Than Your Baby is the must-have addition to the Oatmeal canon fans have been clamoring for.
Join us in the Rare Book Room as Matthew shares and signs his book!
Admission Options: Buy a copy of Why My Cat is More Impressive Than Your Baby to attend this event. Please note that payment is required for all online event orders at the time of checkout. The event will be located in the Strand's 3rd floor Rare Book Room at our store at 828 Broadway at 12th Street. Doors open 30 minutes before the start of the event.
Strand Book Store
828 Broadway, New York, NY, 10003-4805
(212) 473-1452