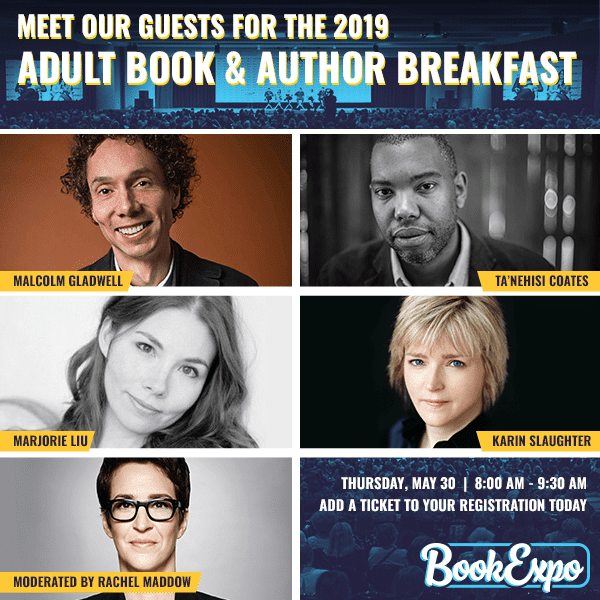 Press Release:
Nightly television's leading lady is taking the Main Stage at BookExpo this year for the 2019 Adult Book & Author Breakfast. Taking place Thursday, May 30 at the Javits Center in New York, television host and political commentator Rachel Maddow will host one of the most highly anticipated events at ReedPOP's BookExpo. She will be joined by some of the nation's leading voices in adult literature including Malcolm Gladwell (The Tipping Point, Outliers, David & Goliath), Ta-Nehisi Coates (Between the World and Me, Black Panther), Karin Slaughter (The Last Widow) and Marjorie Liu (Monstress) for an insightful and lively discussion of their works and the industry.
Rachel Maddow, author of the #1 New York Times bestseller, Drift, will discuss her forthcoming book, title to be announced, for the first time. Maddow is currently the host of The Rachel Maddow Show on MSNBC. Maddow will be joined by Malcolm Gladwell, author of five New York Times bestsellers, including The Tipping Point, Blink, and David and Goliath. Gladwell will discuss his latest book, Talking to Strangers, which will dissect how good we are at making sense of strangers. He examines multiples cases, including the man who took down Bernie Madoff, the false conviction of Amanda Knox and several other puzzling cases, and attempts to understand these encounters, how they went haywire, and how we can fix them. Gladwell is currently the host of the podcast Revisionist History and has been a staff writer for The New Yorker for over 20 years.
New York Times bestseller Karin Slaughter, one of the world's most acclaimed crime writers and founder of the Save the Libraries project, will also take the stage to discuss the next thriller in her beloved Will Trent series releasing this August, The Last Widow. Slaughter has been published in over 120 countries and she has sold over 35 million copies of her novels around the globe. #1 New York Times bestselling author Ta-Nehisi Coates will preview his next work and first novel, The Water Dancer, a brilliantly imagined and deeply thoughtful work of magic and adventure that follows a young man's conflicted journey into the covert war on slavery. Coates is the author of Between the World and Me, which won the National Book Award in 2015, We Were Eight Years in Power and The Beautiful Struggle. They will be joined by attorney, New York Times bestselling author and comic book writer Marjorie Liu who will dissect her award-winning comic series Monstress co-created with Sana Takeda and published by Image Comics. In 2018, Monstress won a Hugo Award, British Fantasy Award, Harvey Award, and five Eisner Awards, making Liu the first-ever woman to win an Eisner in the Best Writer category. She was also nominated for a GLAAD Media Award for outstanding media images of the LGBTQ community in her comics including: X-23, Black Widow, Dark Wolverine and Astonishing X-Men.
"Each year, our Adult Book & Author Breakfast invites attendees to hear from an eclectic mix of storytellers who are each greatly impacting the industry," said Jennifer Martin, Event Director, BookExpo. "One of our most popular events of the show, the Breakfast offers an unparalleled opportunity to hear from some of the most prominent authors in publishing today."
Full program information can be found below:
THURSDAY, MAY 30
8:00AM – 9:30AM ADULT BOOK & AUTHOR BREAKFAST (Main Stage)
The Thursday morning breakfast will feature Malcolm Gladwell, author of Talking to Strangers (Little, Brown and Company); Karin Slaughter, author of The Last Widow (William Morrow); Ta-Nehisi Coates, author of The Water Dancer (One World Publishing); and Marjorie Liu, author of the award-winning comic series Monstress (Image Comics). Emmy-award winning Host Rachel Maddow will emcee the event.
For more information or to register, please visit www.bookexpoamerica.com.