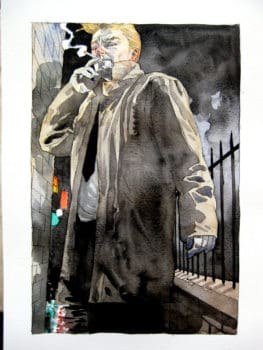 Splash Page Comic Art will be setup at the inaugural NCS Fest in the Main Street Market Place at Tent – Table C11 with special guests Sean Phillips (Criminal, The Fade Out) and Charlie Adlard (The Walking Dead, Vampire State Building). This is Sean's first US appearance in ten years and Charlie has not been in the states for the past couple years.
Sean Phillips will be signing at our table on Saturday, May 18th at 4 PM and Sunday, May 19th at 3PM.
Charlie Adlard will be signing at our table on Saturday & Sunday both at 2PM.
If you are a fan of Ed Brubaker and Sean Phillips' highly acclaimed projects Criminal, My Heroes Have Always Been Junkies, Sleeper, The Fade Out, and more, we have a SUPER RARE COMMISSION OPPORTUNITY for you.
FOUR 10 x 14″ full color watercolor 1 character painted pieces. This will be the only type of commission he'll be taking at the show. First preference will go to individuals who are attending NCS Festival, but if you are interested in a spot and cannot attend and do not have anyone who can attend, go ahead and put one of the commission slots in your cart and provide a shipping address. If there are available opportunities, then we will ship out your order to you.
To signup, select one of the four spots available, put it in the shopping cart, and provide us with the one character /theme you would like painted & shipping address if you are not attending the show. Grab a spot while you can.
For more information please go to the website: www.splashpageart.com