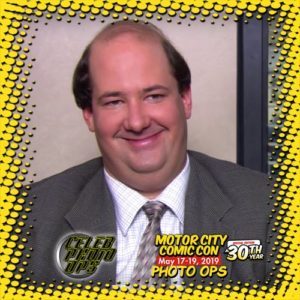 Press Release:
Motor City Comic Con, Michigan's longest and largest comic and pop-culture event, is pleased to announce "The Office" star Brian Baumgartner will attend this year's convention on May 17th – 19th at the Suburban Collection Showplace. Baumgartner will be hosting a panel Q&A alongside his "The Office" costar Leslie Baker. In addition, Baumgartner will be available for autographs ($40) and photo ops ($60). To purchase tickets and for more information about autographs and photo ops, please go to
Brian Baumgartner is an American actor. He is best known for playing Kevin Malone in the American adaptation of The Office. Born in Atlanta, Georgia, Baumgartner attended Holy Innocents' Episcopal School. He attended and graduated from The Westminster Schools in 1991, one year before his co-star on The Office Ed Helms graduated. He attended Southern Methodist University before moving to Los Angeles and served as Artistic Director of Hidden Theatre in Minneapolis, Minnesota, where he received multiple awards for artistic and acting excellence. Later, Baumgartner performed regionally at the Guthrie Theater, Berkeley Repertory Theatre, Children's Theater Company, and Theatre de la June Lune.  Baumgartner studied acting at the Meadows School of the Arts at Southern Methodist University.
His television roles are in Jake in Progress, Arrested Development, and Everwood. He played a talent scout on Last Comic Standing with his The Office co-star Kate Flannery, and starred with Robin Williams, Mandy Moore and John Krasinski in License to Wed. In June 2007, Baumgartner won a Daytime Emmy Award for Outstanding Broadband Program – Comedy, for his work on The Office: The Accountants webisodes. His co-stars Angela Kinsey and Oscar Nunez also shared the award. He also appeared in Ingrid Michaelson's music video "Time Machine." Baumgartner is an accomplished golfer.
The 2019 Motor City Comic Con will be held at the Suburban Collection Showplace which is located at 46100 Grand River Avenue in Novi, Michigan on Friday, May 17 (12:30 PM to 7 PM), Saturday, May 18 (10:30 AM to 7 PM) and Sunday, May 19 (10:30 AM to 5 PM).
Doors open 30 minutes earlier for advance ticket holders. Future announcements of media guests, comic guests, exhibitors and events will be announced and posted to
www.motorcitycomiccon.com in the coming months.
Follow Motor City Comic Con on Facebook, Instagram, and Twitter for more details on upcoming new guests, programming, limited VIP packages, photo opportunities and more.