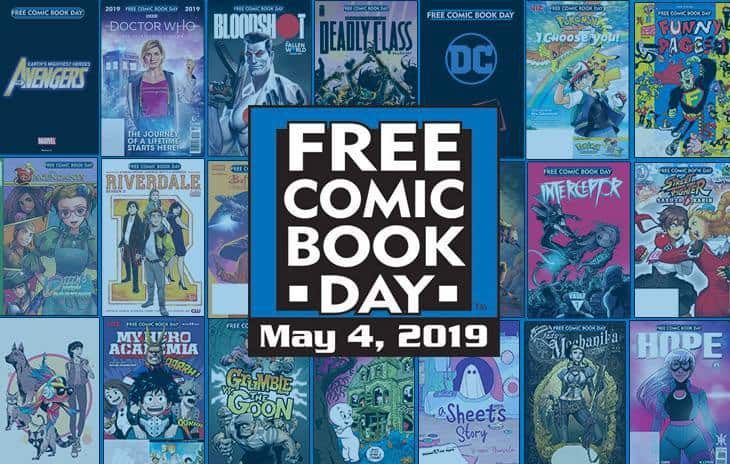 Press Release:
May 1st is the 35th anniversary of Cards, Comics & Collectibles – Baltimore County's Premiere Comic Book Store and the Official News Source of the Baltimore Comic-Con, and we are using this Saturday, Free Comic Book Day 2019, as our celebration! You don't want to miss the party with our amazing guests, events, food and drink, and FREE COMICS!
American Mythology Productions will be at the store when doors open, featuring S.A. Check (Pink Panther, Casper), S.L. Gallant (Underdog, GI Joe), and James Kuhoric (Hatchet, Six Million Dollar Man).
Come meet Joe Pruitt (Black-Eyed Kids), who besides writing comics is also Publisher and Chief Creative Officer (CCO) of AfterShock Comics.
Emily Whitten and Thom Zahler (The Underfoot), Steve Conley (The Middle Age), and Jamar Nicholas (Leon, Protector of the Playground) will all be signing autographs at the store throughout the day as well.
In addition to free comics and an amazing line-up of comic book creators in the store, we will also have food and drink (while supplies last!).
"We're going to have two Free Comic Book Day publishers represented at the store," said Marc Nathan, owner of Cards, Comics & Collectibles. "That's huge! And on top of that, we've got fantastic creators there, we've got tons of comics we'll be giving away, we'll have food — it's a can't-miss day for sure!"
Besides giving away free comic books, the store will offer 50% off graphic novel paperbacks, hardcovers, manga, and artist editions, and $1 modern back issue bins, as well as 20% off card packs and boxes*.
Join us on Saturday May 4, 2019 as events kick off at 10:00am with store signings and, of course, FREE COMICS!
Cards, Comics & Collectibles is located at 51 Main St., Reisterstown, MD 21136. For more information, please visit cardscomicscollectibles.com