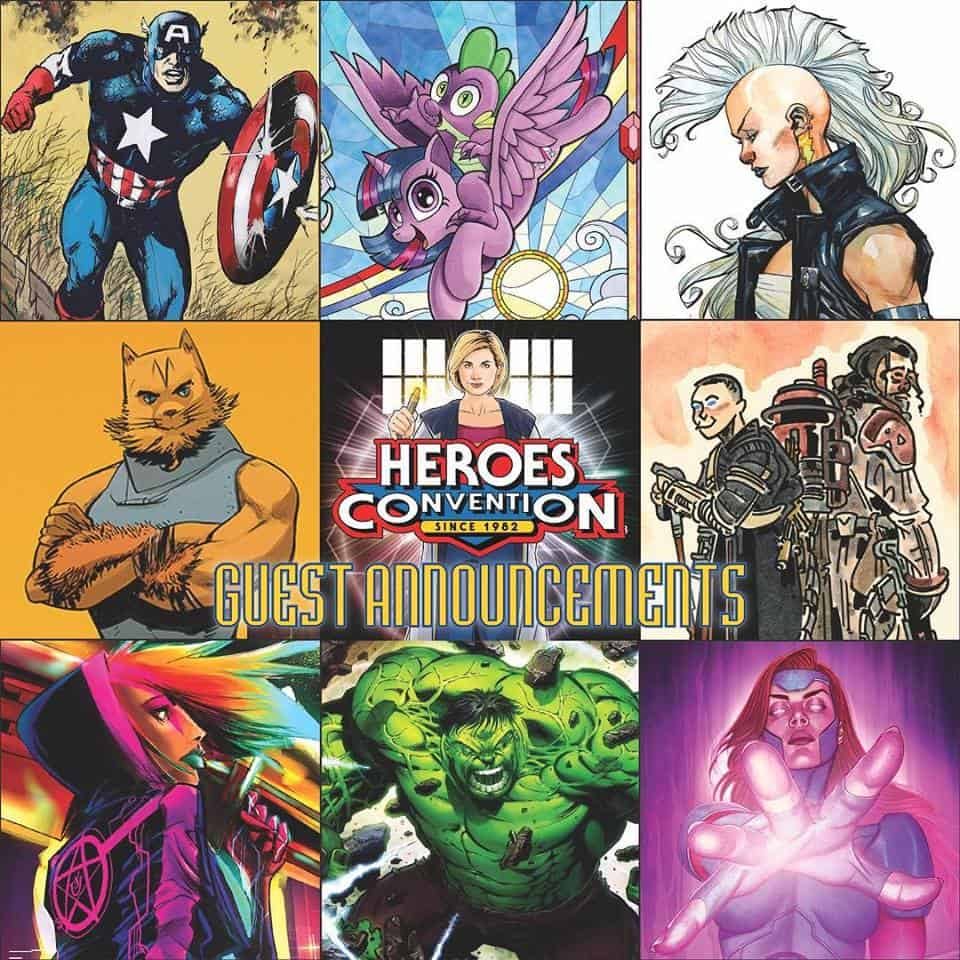 HeroesCon has announced even more guests for their 2019 show including Kevin Maguire, June Brigman, Robert Atkins, Paul Pelletier, Bart Sears, Brian Schirmer, Robbi Rodriguez, Dave Dorman, Nathan Fox, and many more! HeroesCon 2019 takes place on June 14-16, 2019 at the Charlotte Convention Center.
ROBERT ATKINS | AA-TBA 
G.I. Joe, Snake Eyes, Amazing Spider-Man, Venom, Heroes for Hire
SEAN BECK | AA-TBA
JuniorHigh Horrors, G.I. Joe 
CRAIG BOLDMAN | AA-TBA
Archie Comic, Tailipoe!, Cap'n Catnip, Superman
JUNE BRIGMAN | AA-TBA
Power Pack, Mary Worth, Captain Ginger
PATY COCKRUM | SATURDAY ONLY | AA-TBA
The Cat, Nightcrawler
DAVE DORMAN | AA-TBA
Star Wars, Aliens, The Wasted Lands
BEN FISHER | AA-TBA
The Underfoot, The Great Divide, The Misadventures of Grumpy Cat & Pokey 
NATHAN FOX | AA-TBA
The Weatherman, Vertigo SFX, Captain Victory, Dogs of War, Haunt, DMZ
KEVEN GARDNER | AA-TBA
The Ride, Ice, Survival
MATT HALEY | AA-TBA
Wonder Woman '77
RAY KRYSSING | AA-TBA
Star Wars, Spider-Man, Silver Surfer, Fantastic Four, Wonder Woman, Thor, JLA, Daredevil
MARISSA LOUISE | AA-TBA
Hex Wives, Grumble, Stranger Things, Spell on Wheels, Spook House
TOM LYLE | AA-TBA
Spider-Man, Robin, Punisher, Batman
KEVIN MAGUIRE | AA-TBA
Justice League, Guardians of the Galaxy, World's Finest
BILLY PARKER | AA-TBA
Junior High Horrors
PAUL PELLETIER | AA-TBA
Aquaman, Batgirl, Guardians of the Galaxy, Incredible Hulk, Fantastic Four
BRANDON PETERSON | AA-TBA
Superman, Titans, Green Lantern
ROBERT POTCHAK | AA-TBA
Junior High Horrors, IMMORTAL, Dead Sonja
ROY RICHARDSON | AA-TBA
Flash, Mary Worth, Captain Ginger
ROBBI RODRIGUEZ | AA-TBA
Goddess Mode, Spider-Gwen, FBP, Frankie Get Your Gun
JB ROE | AA-TBA
Image, Black Mask Studios, Dynamite, VRV, Hidden Fortress Press, Comicker, Really Easy Press
BART SEARS | AA-TBA
Giantkillers, XO Man of War, Turok, Legends of the Dark Knight, Blade, Spider-Woman
BRIAN SHEARER | AA-TBA
Transformers, GI Joe, William the Last
ZACK SOTO | AA-TBA
The Secret Voice
COLLETTE TURNER | AA-TBA
Cover Artist for: Dollface, Zombie Tramp, Lady Death: Unholy Ruin
MATT WEBB | AA-TBA
Flesh and Blood, Next Men, Hawkman, Star Trek
MARCUS WILLIAMS | AA-TBA
Tuskegee Heirs: Flames of Destiny
KELLY YATES | AA-TBA
Doctor Who, Amber Atoms, MonstHer
Cancellations: Allen Bellman, John McCrea, Chip Zdarsky 
For the most up-to-date information, check our blog, or sign up for the weekly Heroes Hotline newsletter. You can also follow us on Twitter and Facebook!
BUYING AN ADVANCE PASS MEANS YOU'LL GET ANY ADVANCE INCENTIVES WE OFFER, FREE!
ENTRY WILL BE $25: FRI $25: SAT $20: SUN / AT THE SHOW ITSELF, SO YOU SAVE AS MUCH AS $20 BY PURCHASING ADVANCE PASSES TODAY! TICKETS ARE NOT REFUNDABLE, UNDER CERTAIN CIRCUMSTANCES WE MAY CREDIT AN UNUSABLE TICKET TOWARD FUTURE TICKET PURCHASES.
HEROES CONVENTION was founded in 1982 by Shelton Drum, owner of Charlotte's Heroes Aren't Hard To Find comics shop. Since then the convention has become famous for its comics-first and family-friendly atmosphere, where fans can mingle directly with professionals and exhibitors. Boasting an incredible guest list built mainly on reputation and goodwill, HeroesCon is known nationwide as a "must" on the summer schedule, drawing fans, exhibitors, and creators from all over the world to the Charlotte Convention Center.