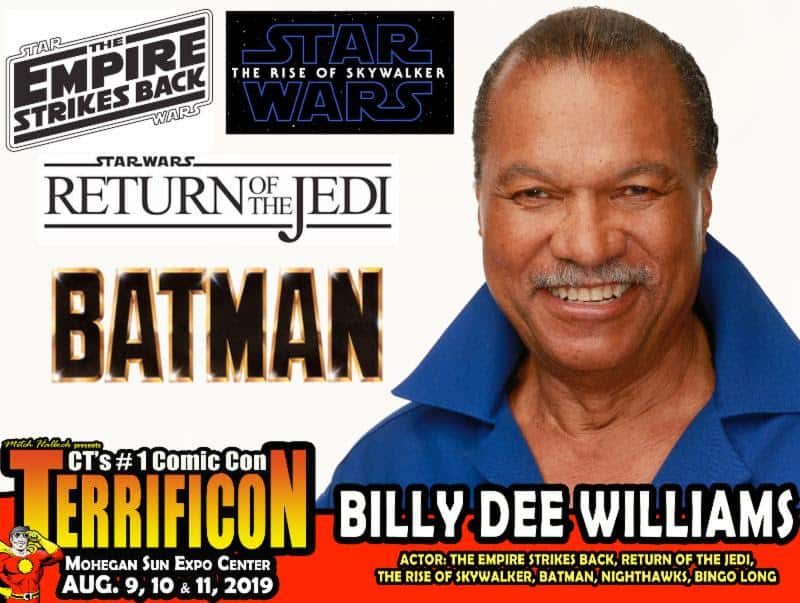 Press Release:
TERRIFICON, CT's #1 Comicon is honored to have legendary actor Billy Dee Williams join us at Mohegan Sun on August 9-11, 2019.
Fans were thrilled to see Billy Dee in the new trailer for Star Wars Episode IX: The Rise of Skywalker.
Billy Dee has notched up an impressive array of film and television appearances over the past 50+ years. He is easily best known to international film audiences as the roguish Lando Calrissian in the last two episodes of the original Star Wars-trilogy: The Empire Strikes Back (1980) and Return of the Jedi (1983) as well as the animated series Star Wars Rebels, The Freemaker Adventures and The Lego Move. Williams can also be seen on screen in Brian's Song, Lady Sings the Blues (1972), Nighthawks (1981), and in Tim Burton's classic; Batman (1989) where he played District Attorney Harvey Dent, Moving Target (1996) and Undercover Brother (2002). A regular performer also in many fine quality television movies and television series.
Join us at TERRIFICON and meet the coolest Rebel in the galaxy!
There will be more Bat-spectacular celebrating for the Dark Knight's 80th anniversary; including Billy Dee William's costar in Batman; Robert Wuhl (his 1st ever appearance at a comic con)!
Ticket, hotel and exhibit space information is at www.terrificon.com