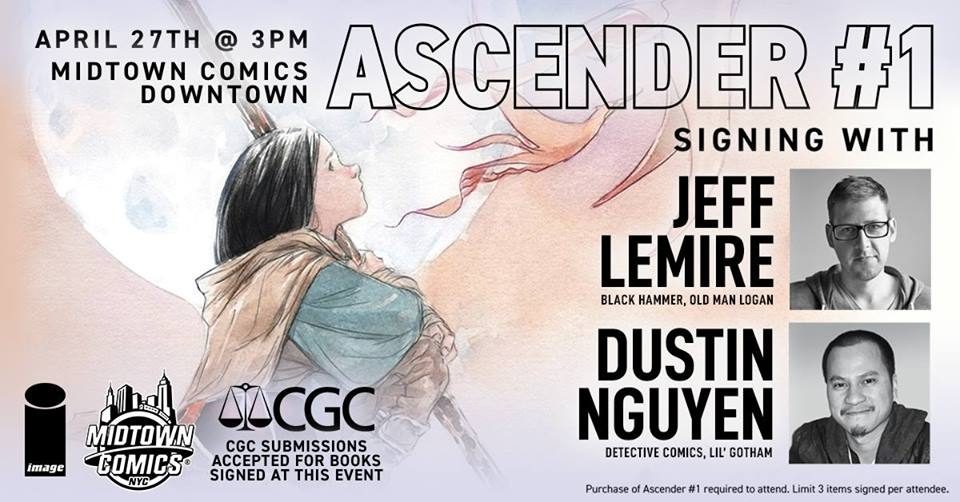 Writer Jeff Lemire and artist Dustin Nguyen appears at Midtown Comics Downtown on Saturday, April 27th at 3 PM to celebrate the release of Ascender #1! This is an open signing and we recommend showing up early, just to be safe. Purchase of Ascender #1 required. Limit 3 items signed per attendee. See you there!
Ten years after the events of Descender, technology has fallen to the wayside and magic has taken over. Mila spends her days exploring the lonely wilds of the planet Sampson, trying to stay out of the clutches of the evil disciples of the all-powerful vampire witch known only as "Mother". But, like her parents Andy and Effie, Mila doesn't like to play by the rules and when a robotic pal of her dad's shows up, nothing will ever be the same! An unforgettable fantasy quest begins from Descender creators Jeff Lemire and Dustin Nguyen in Ascender!
There will be a CGC representative to grade books signed at this event. Any previously signed books are not eligible for this service.
Cost of CGC is only the CGC grading fee (This does not include the cost of purchasing the books)
CGC books will be shipped to CGC offices for grading and will take 17-35 days for them to return, in the CGC protective slab. This is determined based on which options are chosen for CGC grading and shipping.
Midtown Comics Downtown
64 Fulton Street, New York, New York 10038
(212) 302-8192