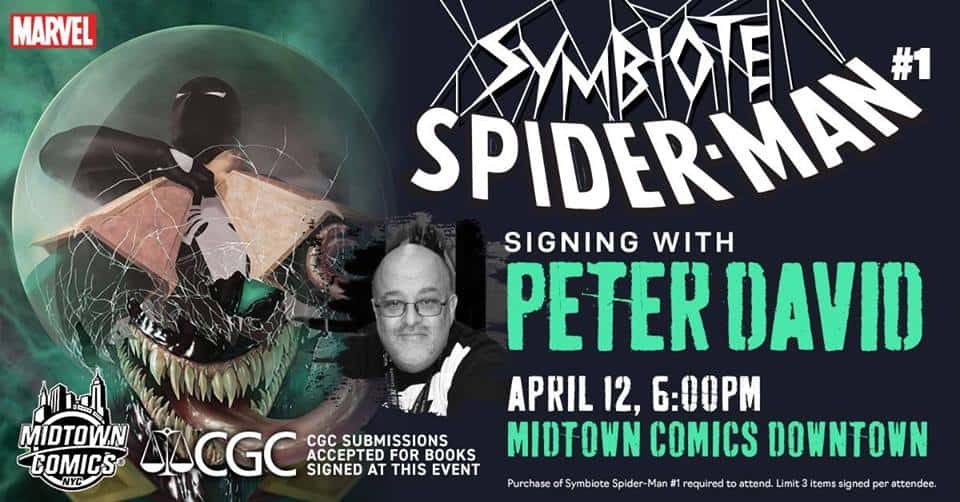 Writer Peter David (Spider-Man 2099, Incredible Hulk, X-Factor) appears at Midtown Comics Downtown on Friday, April 12th at 6 PM to celebrate the release of Symbiote Spider-Man #1 from Marvel Comics! This is an open signing and we recommend showing up early, just to be safe. Purchase of Symbiote Spider-Man #1 required. Limit 3 items signed per attendee.
Long ago, Peter Parker came back from space with a new look that would eventually become the vicious Venom! But before things fell apart, Pete was happy to patrol the streets of NYC in his slick duds. You thought you knew the whole story, but now famed Spider-Man writer Peter David reveals the hidden truth of the "Black Suit Saga", with the art of Greg Land. And as if that wasn't enough mystery, the mysterious Mysterio mystifies as he takes on the wall-crawler in the pages of Symbiote Spider-Man!
There will be a CGC representative to grade books signed at this event. Any previously signed books are not eligible for this service.
Cost of CGC is only the CGC grading fee (This does not include the cost of purchasing the books)
CGC books will be shipped to CGC offices for grading and will take 17-35 days for them to return, in the CGC protective slab. This is determined based on which options are chosen for CGC grading and shipping.
Midtown Comics Downtown
64 Fulton Street, New York, New York 10038
(212) 302-8192