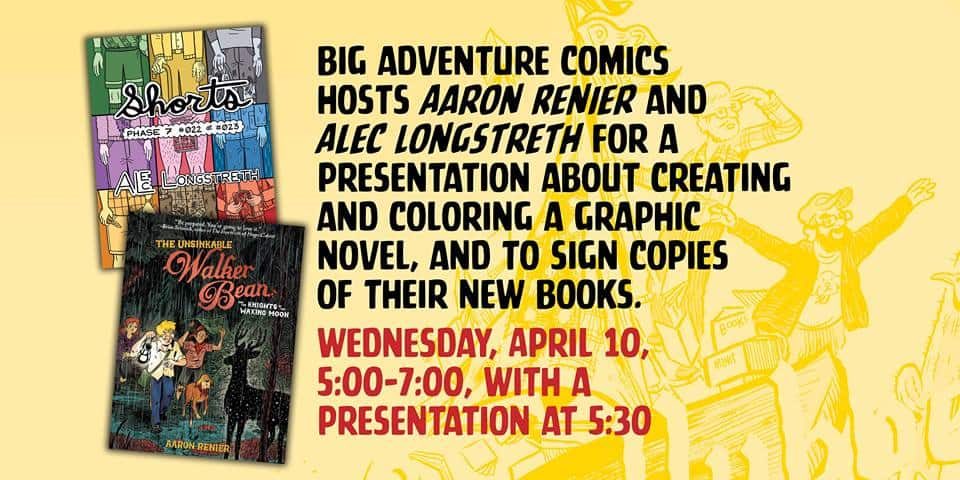 Aaron Renier and Alec Longstreth appear at Big Adventure Comics on Wednesday, April 10, 2019 at 5 PM for a presentation about creating and coloring a graphic novel, and to sign copies of their new books.
Aaron Renier is currently promoting the second graphic novel in his all-ages, swashbuckling, high seas adventure series, The Unsinkable Walker Bean published by First Second Books. In 2010 Renier was a recipient of the Sendak Fellowship which is awarded annually by the Maurice Sendak Foundation. In 2006 Renier won the Talent Deserving of Wider Recognition Eisner Award for his first graphic novel Spiral-Bound published by Top Shelf Productions. Renier currently teaches drawing and comics at universities in Chicago.
Alec Longstreth is currently promoting Shorts, the seventh collection of his long-running mini-comic Phase 7, which he self-publishes. In 2005 Longstreth won the Outstanding Mini-comic Ignatz Award for the fifth issue of Phase 7, which contained the first chapter of his graphic novel Basewood. In 2014 the French translation of Basewood won the Prix Bulles de Cristal. Longstreth works as a digital colorist (including on both Walker Bean books!), and as the Director of Academic Outreach for The Center for Cartoon Studies. He lives in Santa Fe.
Big Adventure Comics
418 Montezuma Ave, Santa Fe, NM 87501
(505) 992-8783