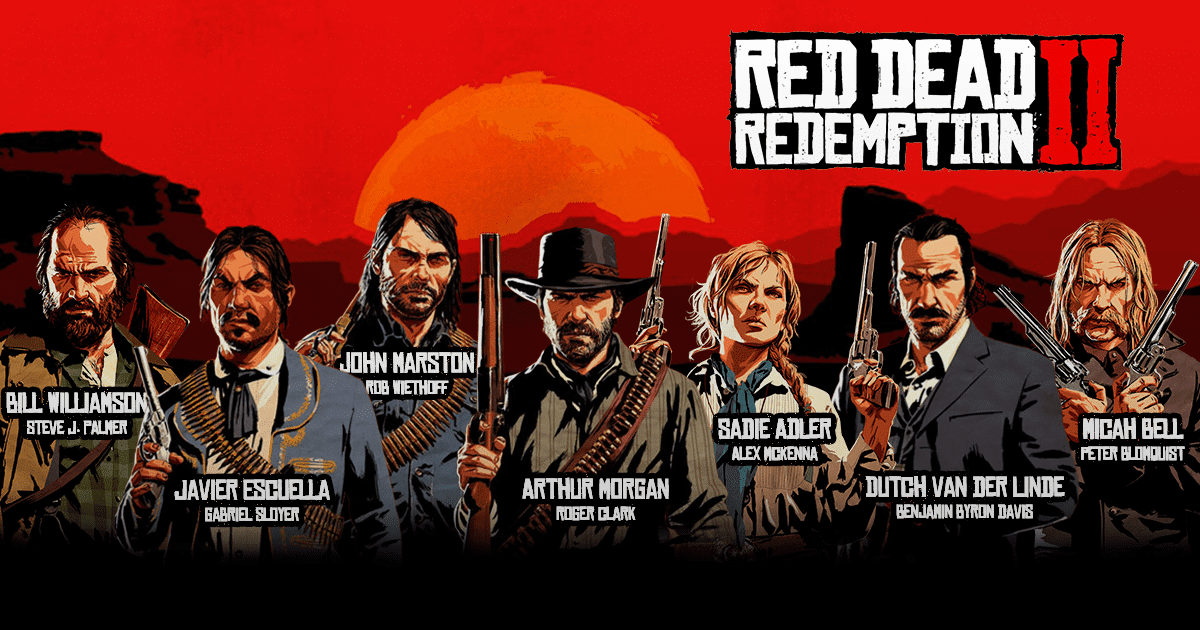 The voice cast of Red Dead Redemption, including Alex McKenna (voice of Sadie Adler), Roger Clark (voice of Arthur Morgan), Rob Wiethoff (voice of John Marston), Peter Blomquist (voice of Micah Bell), Steve J. Palmer (voice of Bill Williamson), Gabriel Sloyer (voice of Javier Escuella), and Benjamin Bryon Davis (voice of Dutch Van Der Linde), appear at the Great Philadelphia Comic Con on April 12th – 14th.
Benjamin Bryon Davis Benjamin Byron Davis is an American actor, writer, director and acting coach. He has appeared primarily on television series, including Without a Trace, Criminal Minds, Gilmore Girls, Windfall, MADtv, Six Feet Under, among other series. In addition to television, he also performs on stage. In 2011, Davis directed the theatre production Awake. Davis voiced multiple characters in various Rockstar titles, including Grand Theft Auto: San Andreas, L.A. Noire, and the Red Dead Redemption games.
Robert Allen Wiethoff is an American actor and voice actor. Wiethoff is best known for providing the voice and motion capture for John Marston in the 2010 video game Red Dead Redemption, its expansion Undead Nightmare, and the 2018 prequel Red Dead Redemption 2.
Roger Clark was born in New Jersey, raised in Ireland and trained in the U.K. He attended University of Glamorgan in Cardiff, Wales and achieved a BA in Theatre, Media and Drama. His professional acting debut was in 2000 with the Wales Actor's company and their production of 'Juno and the Paycock'. Most of his resume lies in theatre, voice over, television and motion capture. Most notably he voiced and did the motion capture for Arthur Morgan in Red Dead Redemption II. Clark won the "Best Performance" award at the Game Awards of 2018 for his role as Arthur. He has performed in a total of 45 countries and now lives and works in New York.
Peter Blomquist is an American actor and writer who lives in New York, USA. He is best known for his roles in the comedy Get Hit, the video game L.A. Noire and, most recently, in Red Dead Redemption 2 as Micah Bell.
Alex McKenna is an American actress and voice-over artist. She gained fame by playing Petunia Stupid in The Stupids (1996) and Mickey Apple in You Wish (1997). She resumed her acting career with guest appearances in CW hit teen drama series 90210 in 2010. In 2012, she had recurring appearances in the television series, including Dallas, Guys with Kids, and Two and a Half Men.
Steve J. Palmer is an actor best known for portraying hot-blooded and short-tempered Van der Linde Gang enforcer Bill Williamson for Rockstar Games' RED DEAD REDEMPTION, RED DEAD REDEMPTION II, and the FOX Network Special RED DEAD REDEMPTION: The Man From Blackwater. Not only does his other acting credits include SHOWtime's HOUSE OF LIES, HBO's DEADWOOD, and voice overs for programming on both the Discovery Channel and History Channel, Steve's dabbled in the writing department for comic book indie label ATOMIC BASEMENT ("Z-Blade XX", "The Ghosts of Marko Darc").
Gabriel Sloyer is known for his work on Red Dead Redemption II (2018), Narcos (2015) and Power (2014). In Red Dead Redemption 2 he voiced Javier Escuella, replacing Antonio Jaramillo in the role. Apart from his role as Javier Escuella in Red Dead Redemption II, Sloyer has also voiced Oscar Guzman in Grand Theft Auto V, another Rockstar title.
Visit www.philadelphiacomiccon.com for further information and tickets!