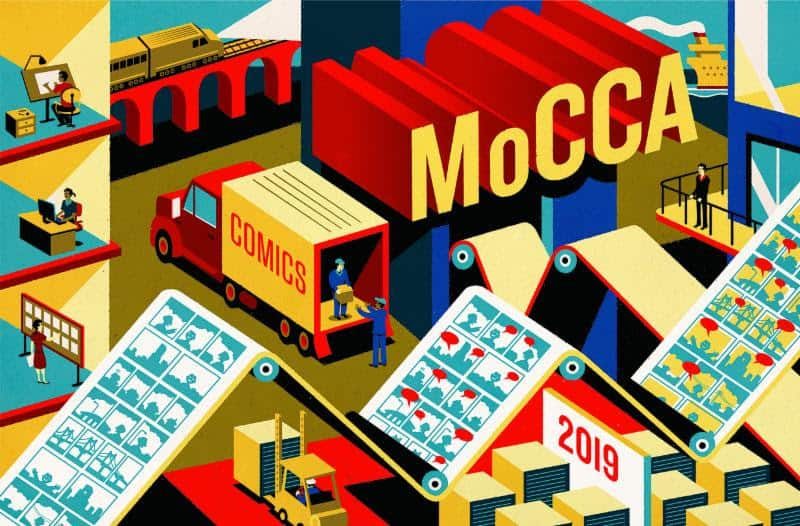 Press Release:
The Society of Illustrators is proud to announce that Patrick Crotty, Rebekka Dunlap, Maria Hoey, Nathan Huang, and Ben Passmore will form the jury for the 2019 MoCCA Arts Festival Awards of Excellence. These awards will recognize the most outstanding work on view at the festival. Categories include Short Form and Long Form books, Single Image cartoons and comics, and Special Format works. The 2019 Awards of Excellence is Chaired by Maëlle Doliveux and Co-Chaired by Ben Passmore.
The competition is open to artists tabling at the 2019 MoCCA Arts Festival. Judging of the Awards of Excellence will happen on Monday, April 1st. Judges will convene and discuss each of their favorites based on submissions they will have received in March, ultimately deciding on a gold medal and two silver medals per category. Artists winning this award will be acknowledged with a special medal and financial award, The M. Prize, given in memory of Timothy Patrick Moynihan. This award has been made possible through the generosity of friends and family of Timothy Patrick Moynihan. Finalists will receive an additional prize from MoCCA Arts Festival sponsors WACOM and Dick Blick. Details to be announced soon.
About the judges:
Patrick Crotty
Crotty is a co-founder and publisher at PEOW Studios, a small press publisher of independent comics. Originally Sweden's first dedicated Risograph print shop, Peow transitioned in to comic publishing, releasing books with notable artists like Guillaume Singelin, Jane Mai, Thu Tran, Freddy Carrasco, among others. Last year, the gold medal for short form and long form comics both went to books published by Peow. Crotty is also the designer for Random House Graphic, a course instructor at SVA's risolab, and currently working on a comic about competitive Magic the Gathering play.
Rebekka Dunlap
Dunlap is an Illustrator working and living in Brooklyn, NY. She grew up in the Pacific Northwest, studied for awhile at the School of Visual Arts and ultimately graduated from the University of Washington. Her work experiences include creating online content for Frederator Studios, illustrating apps for TinyBop and making pictures for publications such as The New York Times, BUST Magazine, BOOM Studios and Lucky Peach.
Maria Hoey
Hoey is part of the brother and sister duo behind COIN-OP. Their illustrations appear in newspapers and magazines, commercials, and advertising worldwide. The first hardcover collection of their work: Coin-Op Comics Anthology 1997-2017, published by Top Shelf Productions / IDW Publishing, is out now. Their early comics appeared in many issues of the legendary BLAB! Magazine. They are currently hard at work on their first full length graphic novel. Peter and Maria Hoey are represented by Rapp | Art.
Nathan Huang
Huang is an art director, illustrator, and comics artist in Queens, NY. He is currently an art director for The New York Times Opinion section.
Ben Passmore
Passmore makes comics in his room about Anarchism, race, society, monsters, and junk food. He's worked for Boom studios, The New York Times, Narrativelty, and is a regular contributor at the NIB. He's produced several graphic novels including Your Black Friend and Other Strangers, which won an Ignatz and was listed as one of NPR's favorite 100 comics and graphic novels, Goodbye, and the series DAYGLOAYHOLE.