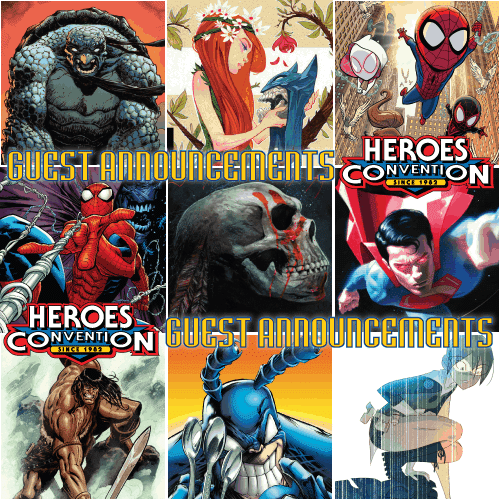 HeroesCon has announced even more guests for their 2019 show including Mike Royer, Kevin Nowlan, Adam Warren, Adrianna Melo, Al Milgrom, Ben Caldwell, Colleen Doran, Daniel Warren Johnson, David Walker, Denys Cowan, Georges Jeanty, JM Dematties, Keith Giffen, Laura Martin, Marcus Hamilton, Vanesa Del Rey, and many more! HeroesCon 2019 takes place on June 14-16, 2019 at the Charlotte Convention Center.
DAVE AIKINS | AA-TBA
SpongeBob, Dora, Shimmer & Shine, Blaze, Zombies!!!
MATTHEW ALLISON | AA-TBA
Cankor Comics
JIM AMASH | AA-TBA 
Alter Ego magazine, Jughead, Sonic Universe, Archie and Friends
PAUL AZACETA | AA-TBA
Outcast, Graveyard of Empires, X-Men, Spider-Man
JEREMY BASTIAN | AA-TBA 
Cursed Pirate Girl, The Guild: Tink, Mouse Guard: Legends of the Guard
JOHN BEATTY | AA-TBA
Secret Wars, Punisher, Batman, Thanos Quest 
ANDY BELANGER | AA-TBA
Southern Cross, Vampirella, WWE
ANDY BENNETT | AA-TBA
Vampire: the Masquerade, The Phantom, Kolchak the Night Stalker 
RYAN BODENHEIM | AA-TBA
The Dying & The Dead, Red Mass for Mars, Bloodshot, Black Panther, Wolverine
TAMRA BONVILLAIN | AA-TBA
Doom Patrol, Wayward, Moon Girl and Devil Dinosaur
FRANK BRUNNER | AA-TBA
Dr Strange, Conan, Howard the Duck
BUZZ | AA-TBA
JSA, Vampirella, Atomika
BRENDAN CAHILL | AA-TBA
Darkness Visible, Sable & Fortune, Transformers
BEN CALDWELL| AA-TBA
Prez, A-Force, Wonder Woman, Harley Quinn, Dare Detectives 
RICHARD CASE | AA-TBA
Spider-Man, Doom Patrol, Hunter: The Age of Magic, Annie Ammo
JACOB CHABOT | AA-TBA
Spongebob Comics, Plants Vs. Zombies, The Mighty Skullboy Army
KEITH CHAMPAGNE | AA-TBA
Stranger Things, Green Lantern, JSA, The Switch: Electricia
AARON CONLEY |AA-TBA
Sabertooth Swordsman, Little Nemo: Dream Another Dream, It Girl! 
STEVE CONLEY |AA-TBA
The Middle Age, Bloop, Astounding Space Thrills
DENYS COWAN |AA-TBA
Black Panther, Power Man and Iron Fist, The Question 
CREATUREBOX |AA-TBA
PATH, Ratchet & Clank, The MONSTER VOLUME 
TERESA R DAVIDSON | AA-TBA
Sonic the Hedgehog, Archie
JEFF DEKAL | AA-TBA
Iron Fist, Kingpin, Hulk
VANESA DEL REY | AA-TBA
Redlands, Scarlet Witch, Hit 1955, 1957 
J. M. DEMATTEIS | AA-TBA
Kraven's Last Hunt, Justice League Dark, Booster Gold
MICHAEL DOONEY | AA-TBA
Teenage Mutant Ninja Turtles, Grimm Fairy Tales, Gizmo 
COLLEEN DORAN | AA-TBA
A Distant Soil, The Sandman, Wonder Woman, Legion of Superheroes
JARED K FLETCHER |AA-TBA
Batman Damned, Paper Girls, Moonshine, TKO, Southern Bastards 
NAOMI FRANQUIZ | AA-TBA
Misfit City, Bitch Planet, Power & Magic
MICHAEL GARLAND | AA-TBA
New Mutants, Black Monday Murders, Leviathan
CHRIS GIARRUSSO | AA-TBA
Encounter, G-Man, Mini Marvels
KEITH GIFFEN | AA-TBA
Legion of Super-Heroes, Lobo, Ambush Bug, Justice League, Scooby Apocalypse
JOSH GREATHOUSE | AA-TBA
Regular Show, the Big Hit, Scotty Odyssey
MARCUS HAMILTON | FRIDAY & SATURDAY ONLY | AA-TBA
Dennis the Menace
CORY HAMSCHER | AA-TBA
Star Wars: Age of Resistance, Incredible Hulk, Supreme
N STEVEN HARRIS | AA-TBA
Wildstorm: Michael Cray, Solarman, Watson and Holmes, Aztek
TOM HEINTJES | AA-TBA
Hogan's Alley Magazine
ANDY HIRSCH | AA-TBA
The Baker Street Peculiars, Varmints, Garfield
NEAL HOLMAN |AA-TBA
Archer, Frisky Dingo, Science!, Redline, Sealab2021 
GEORGES JEANTY | AA-TBA
Buffy, Serenity, 24 Legacy, Green Lantern
DANIEL WARREN JOHNSON | AA-TBA
Extremity, Murder Falcon, Space-Mullet
JAY LEISTEN | AA-TBA
Death and Return of Wolverine, Uncanny X-Men 
DANIEL LEISTER |AA-TBA
Lord of Gore, Werewolf Run, Hack/Slash 
BRIAN LEVEL | AA-TBA
Avengers, Spider-Man, Namor, Inhumans, Deadpool, Batman, Hellblazer
MEGAN LEVENS | AA-TBA
Angel City, Spell on Wheels, Star Trek
MIKE LILLY | AA-TBA
Tick, Grimm Fairy Tales, Nightwing, Vampirella
JAMES LYLE | AA-TBA
Grimm Fairy Tales, Game of Horror, Abraham's Journey
MATTHEW MANNING | AA-TBA
Rise of the Teenage Mutant Ninja Turtles, Teen Titans Go, Batman/TMNT Adventures 
LAURA MARTIN | AA-TBA
Black Panther, A-Force, Ragnarök
PAUL MAYBURY | AA-TBA
Hunters, Cave Carson, Bloodstrike
BOB MCLEOD | AA-TBA
New Mutants, Spider-Man, Kraven's Last Hunt
CARA MCGEE | AA-TBA
Dodge City, Over the Garden Wall, Black Canary: Ignite
DAWN MCTEIGUE | AA-TBA
Justice Leagues vs Suicide Squad, Lady Death, Harley Quinn and Her Gang of Harleys
ADRIANA MELO | AA-TBA
Female Furies, Fantastic Four, Silver Surfer, Star Wars: Empire, Harley & Ivy Meet Betty & Veronica
AL MILGROM |AA-TBA
Firestorm, Thor, Captain Marvel, Spider-Man 
TED NAIFEH | AA-TBA
Heroines, Courtney Crumrin, Polly and the Pirates
ROBERT NEWSOME | AA-TBA
Atomic Elbow, FLUKE
KEVIN NOWLAN | AA-TBA
Dr Strange, Batman, Hellboy, Man-Thing
YANICK PAQUETTE | AA-TBA
New 52 Swamp Thing, Wonder Woman Earth One, Batman
BRETT PARSON |AA-TBA
Tank Girl, New Romancers 
DAVID PETERSEN | AA-TBA
Mouse Guard, Teenage Mutant Ninja Turtles, Dark Crystal, Wind in the Willows
CHRIS PITZER | AA-TBA
Adhouse Books
ANDY PRICE | AA-TBA
My Little Pony: Friendship is Magic, Star Trek: Waypoints, Tales for a Halloween Night
TOM RANEY | AA-TBA
Infinite Crisis, Batman-Superman, Phantom Limb Ghost Puncher
MATTHEW ROBERTS | AA-TBA
Manifest Destiny, Battle Pope: Mayhem
PATRICK ROOKS | AA-TBA
Ripple Comics, Fandomonium
SCOTT ROSEMA | AA-TBA
Space Ghost, Batman Animated, X-Men Adventures
MIKE ROYER | AA-TBA
Mister Miracle, Kamandi, Superman, The Demon, Disney, Tarzan, New Gods
BRIAN SCHIRMER | AA-TBA
Fairlady, Black Jack Ketchum, Ultrasylvania
CHRIS SCHWEIZER | AA-TBA
The Creeps, The Crogan Adventures, Pirates of the Caribbean
BEN SEARS | AA-TBA
The Ideal Copy, Volcano Trash, Night Air, Double+
CHRISTOPHER SEBELA | AA-TBA
Shanghai Red, Crowded, Heartthrob, High Crimes, Injustice, Suicide Squad
BRIAN "SMITTY" SMITH | AA-TBA
Tree Mail, The Stuff of Legend, SpongeBob Comics
K LYNN SMITH | AA-TBA
Plume, Hope, Afterglow
JOHNDELL SNEAD | AA-TBA
Robyn Hood, Grimm Fairy Tales, Back to the Future, Rez
JOHN K. SNYDER III | AA-TBA
Eight Million Ways to Die, Zorro, Grendel, Suicide Squad, Doctor Mid-Nite
SARAH STERN | AA-TBA
Zodiac Starforce, Goldie Vance, Cindersong
KARL STORY | AA-TBA
Black Panther, Serenity, Thors, Tom Strong, Nightwing
BEN TEMPLESMITH | AA-TBA
The Squidder, Choker, Wormwood: Gentleman Corpse, 30 Days of Night
RICH TOMMASO | AA-TBA
Dick Tracy, Black Hammer, Dry County, Spy Seal, Dark Cooridor
BILLY TUCCI | AA-TBA
Shi, Sgt.Rock: The Lost Batallion, A Child Is Born
KEITH TUCKER | AA-TBA
Storyboard Artist: Pinky & the Brain, Duck Tales, He-Man; Cover Artist: Disney and WB Comics
JOHN VAN FLEET | AA-TBA
Batman, Typhoid, The X-Files
RAMON VILLALOBOS |AA-TBA
Nighthawk, E Is For Extinction
CHRIS VISIONS | AA-TBA
Dead Letters, Spider-Gwen, Scarlet Witch, Devils on the Levee
DAVE WACHTER | AA-TBA
Breath of Bones, The Guns of Shadow Valley, Godzilla: Cataclysm
DOUG WAGNER | AA-TBA
Plastic, The Hard Place, Legends of the Dark Knight, The Ride
DAVID WALKER | AA-TBA
Bitter Root, Naomi, Power Man and Iron Fist, Shaft, The Life of Fredrick Douglass
ADAM WARREN | AA-TBA
Empowered, Dirty Pair, Gen 13
LARRY WATTS | AA-TBA
Amy of Darkness, Evil Dead 2, Robyn Hood
NOLAN WOODARD | AA-TBA
Darth Maul, Thrawn, Totally Awesome Hulk, All-New Wolverine
ALEXIS ZIRITT | AA-TBA
Space Riders, Tarantula, The Package
For the most up-to-date information, check our blog, or sign up for the weekly Heroes Hotline newsletter. You can also follow us on Twitter and Facebook!
BUYING AN ADVANCE PASS MEANS YOU'LL GET ANY ADVANCE INCENTIVES WE OFFER, FREE!
ENTRY WILL BE $25: FRI $25: SAT $20: SUN / AT THE SHOW ITSELF, SO YOU SAVE AS MUCH AS $20 BY PURCHASING ADVANCE PASSES TODAY! TICKETS ARE NOT REFUNDABLE, UNDER CERTAIN CIRCUMSTANCES WE MAY CREDIT AN UNUSABLE TICKET TOWARD FUTURE TICKET PURCHASES.
HEROES CONVENTION was founded in 1982 by Shelton Drum, owner of Charlotte's Heroes Aren't Hard To Find comics shop. Since then the convention has become famous for its comics-first and family-friendly atmosphere, where fans can mingle directly with professionals and exhibitors. Boasting an incredible guest list built mainly on reputation and goodwill, HeroesCon is known nationwide as a "must" on the summer schedule, drawing fans, exhibitors, and creators from all over the world to the Charlotte Convention Center.