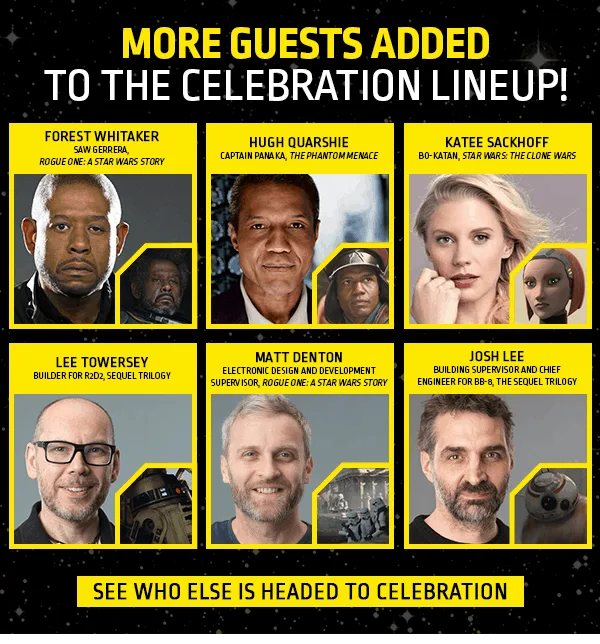 Press Release:
Star Wars Celebration has added further guests for the convention on April 11-15, 2019 in Chicago, IL.
Forest Whitaker, who played Saw Gerrera, the paranoid and grizzled leader of a band of extremists in Rogue One, is heading to Star Wars Celebration Chicago next month.
And he's not alone. The Academy Award-winning actor will be joined by Katee Sackhoff, the voice of legendary Mandalorian warrior Bo-Katan in Star Wars: The Clone Wars and Star Wars Rebels.
And Hugh Quarshie, who played Captain Panaka, Queen Amidala's loyal protector in Star Wars: The Phantom Menace, will join fans, as well.
Droid builders Lee Towersey, a longtime model building hobbyist who became part of Neal Scanlan's practical effects team bringing R2-D2 to life for the sequel trilogy, will be on hand, as well as Josh Lee, who mechanized K-2SO for Rogue One and served as building supervisor and chief engineer on BB-8 for the sequel trilogy, and Matt Denton, the electronic design and development supervisor for Rogue One and Star Wars: The Force Awakens.
These are just the latest in a long line of most impressive Star Wars talent slated for the Topps autograph area. You can purchase your autograph tickets now.
And check back on StarWars.com for more Star Wars Celebration Chicago updates!