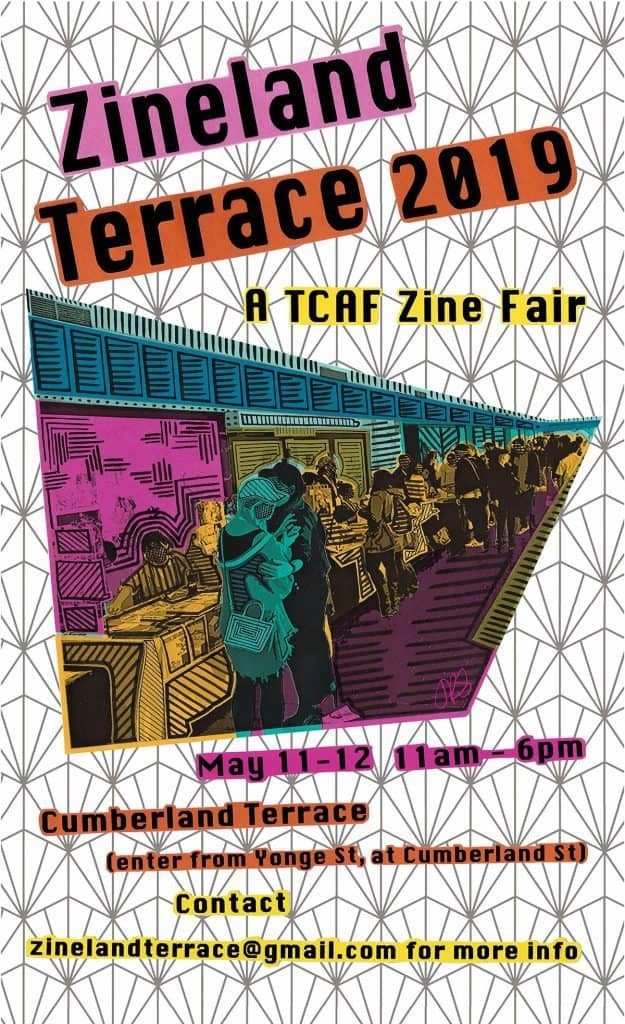 Press Release:
Zineland Terrace, the TCAF Zine Fair, will be returning for its second year at the Toronto Comic Arts Festival (TCAF).
Zineland Terrace is a unique space for zine creators, readers, and well, everyone! Last year's fair was a huge success, and we are excited to continue to offer a different kind of space for self-publishing during TCAF weekend.
Zineland Terrace will occur at The Cumberland Terrace (2 Bloor St W) on May 11-12, 2019. The event will run concurrently with the TCAF festival floor directly across the street at the Toronto Reference Library, but will focus on creators using self publishing, DIY, and zine culture to forge new and critical narratives and communities.
We are inviting any zine creator to apply! You do not need to make comics or have exhibited at TCAF before. We are taking a wide and supportive approach to what counts as a zine, and we want to showcase the broad and diverse spectrum of people working in the medium. To this end, we are especially encouraging local, emerging, and marginalized creators to apply to exhibit at TCAF's Zineland Terrace.
Applications to exhibit are open from now until March 29th through the form at the link…
Application results will go out within 10 days of closing.
There is no fee to apply. If you are accepted to exhibit, the table fee will be $70 (+HST, totalling $79.10).
The exhibitor fee goes directly to covering costs for the venue for the weekend, and covers both days. If the fee is a barrier for you to participate or apply, please send us an email at zinelandterrace@gmail.com
The Toronto Comic Arts Festival will be held on Saturday May 11th, 9am-5pm, and Sunday May 12th, 10am-5pm at Toronto Reference Library, 789 Yonge Street, Toronto, Canada. Attendance is free to all events. Some events will require tickets, info TBA. For futher information please go to the website: www2.torontocomics.com