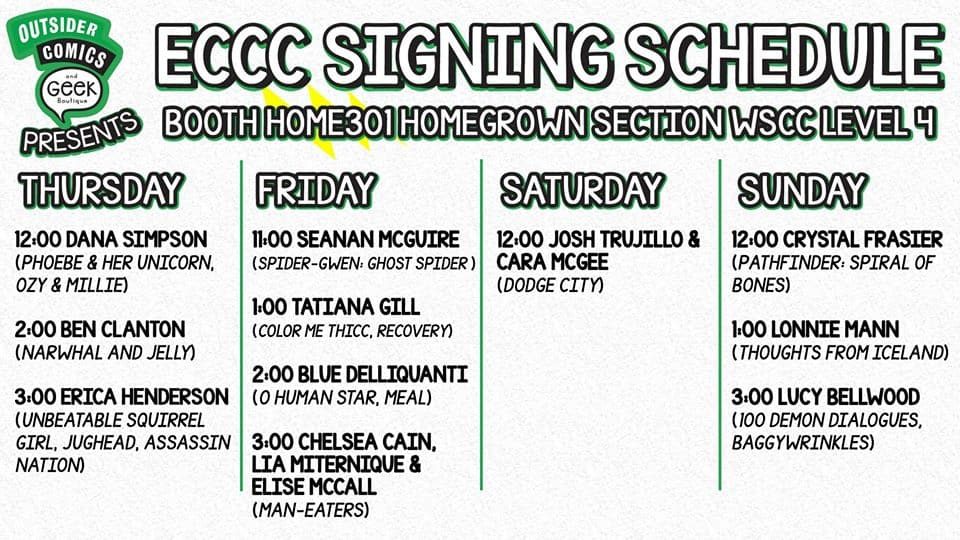 Press Release:
Emerald City Comic Con is back March 14-17 and Outsider Comics has a booth again this year! Our booth is Home301 in the ECCC Homegrown section, and we will be debuting new clothing and gaming accessories at the con.
We also have a number of exciting comic creators scheduled for signings! Find the schedule listed below or in the graphic above.
THURSDAY MARCH 14th
12 PM – 1 PM: Dana Simpson (Phoebe and Her Unicorn, Ozy and Millie)
2 PM – 3 PM: Ben Clanton (Narwhal & Jelly)
3 PM -3:45 PM: Erica Henderson (The Unbeatable Squirrel Girl, Jughead, Assassin Nation)
FRIDAY MARCH 15th
11 AM – 12 PM: Seanan McGuire (Spider-Gwen: Ghost-Spider, Age of X-Man: The Amazing Nightcrawler)
1 PM – 2 PM: Tatiana Gill (Recovery, Color Me Thicc, Wombgenda, Plus, Omnibusted)
2 PM – 3 PM: Blue Delliquanti (O Human Star, Meal)
3 PM – 4 PM: Chelsea Cain, Lia Miternique, Elise McCall (Man-Eaters)
SATURDAY MARCH 16th
12 PM – 1 PM: Josh Trujillo & Cara McGee (Dodge City)
SUNDAY MARCH 17th
12 PM – 1 PM: Crystal Frasier (Pathfinder: Spiral of Bones)
1 PM – 2 PM: Lonnie Mann (Thoughts From Iceland)
3 PM – 4 PM: Lucy Bellwood (Baggywrinkles, 100 Demon Dialogues)
In addition to those in-booth signings at the show, we've also lined up in-store signing for Mirka Andolfo (Unnatural, Hex Wives), Magdalene Visaggio (Kim & Kim, Sex Death Revolution), Dana Simpson, Colleen Frakes (Iron Scars), and Tatiana Gill. We're also hosting a Queer Mixer event on Friday, March 15 at 7:30 PM at the Raygun Lounge. Check the link to Facebook for details.
P.S. Please bring the Outsider staff nachos.