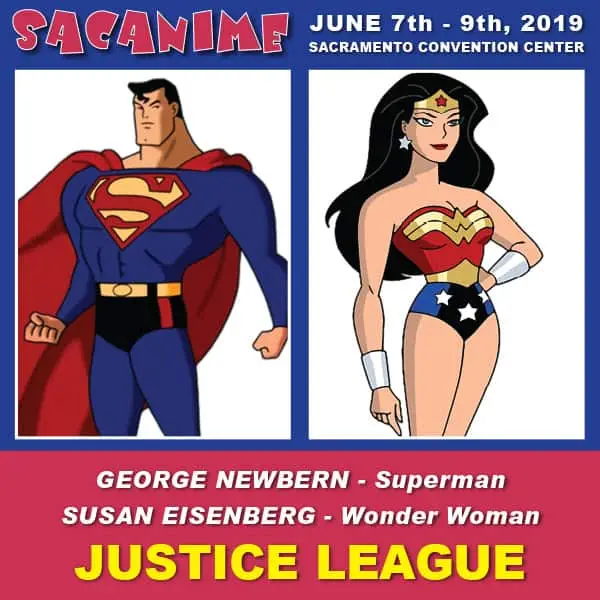 SacAnime Summer 2019 welcomes George Newbern (voice of Superman) and Susan Eisenberg (voice of Wonder Woman) on June 7th – 9th at the Sacramento Convention Center.
George Young Newbern is an American actor and voice actor, best known for his roles as Charlie in ABC show Scandal and Bryan MacKenzie in Father of the Bride (1991) and its sequel Father of the Bride Part II as well as Danny (The Yeti) in Friends and his recurring role as Julia's son Payne in Designing Women. He is also known for providing the voices of Superman in many pieces of DC Comics media (most notably the Justice League and Justice League Unlimited animated series and the Injustice video game series), and Sephiroth in the Final Fantasy series and the Kingdom Hearts series.
Susan Eisenberg is a professional voice-over artist known for her animation, promo, and commercial work. Her breakout role was that of Wonder Woman, aka Princess Diana, in the acclaimed Justice League and Justice League Unlimited television series. Eisenberg continued her animation work in cartoons such as Jackie Chan Adventures (Viper) and The Super Hero Squad (Power Princess), as well as in the video games Star Wars: The Force Unleashed (Shaak-Ti), Jak II (Ashelin), Daxter (Taryn), Elder Scrolls V: Skyrim, Mass Effect 3, and Destiny (Human, Female Player).
Eisenberg reprised her role as Wonder Woman in 2010 in the Warner Bros. DVD Superman/Batman: Apocalypse. Since then she has voiced the Amazon Princess in video games (Injustice: Gods Among Us; Injustice2; DCUO), features (Justice League: Doom; Superman/Batman: Apocalypse) and television (Wonder Woman short).
SACANIME is being held on Friday, Saturday and Sunday June 7th – 9th, 2019 at the Sacramento Convention Center and Sheraton Grand Hotel. For more information, check out our website at: www.sacanime.com