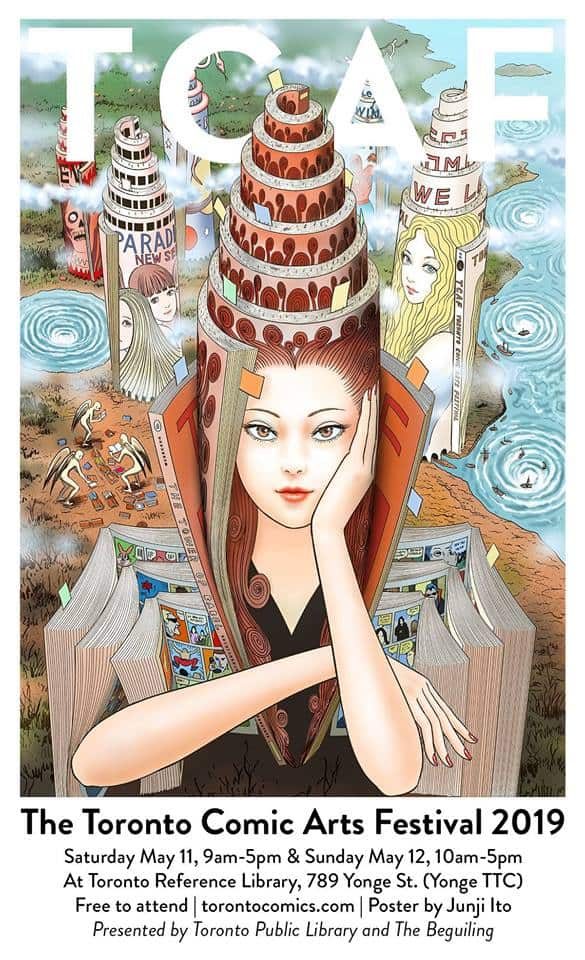 Press Release:
The Toronto Comic Arts Festival (TCAF) proudly announces its second round of Guest for the 2019 Festival, focusing on the international cartooning community! Building on TCAF's history of cartooning and cultural exchanges, the 2019 Festival will be the most international yet, with more than 20 countries represented at the two-day exhibition on May 11 and 12, at Toronto Reference Library and surrounding neighbourhood.
Focusing on adult literary and popular works across genres including memoir, historical fiction, fantasy, and yes, even superheroes, these creators will help focus the eyes of the world on Canada, this May, with English- and French-Language translations of their greatest works available for North American readers.
As always, TCAF will also feature a number of programs during the week of the Festival and on the primary exhibition days, designed to highlight these international works and draw connections between stories the world over. Look for the full range of programming in late March, but do remember to save the date for TCAF's special collaboration with the European Union National Institutes for Culture, which will take place at the Alliance Française Toronto on the evening of Thursday, May 9th.
Now, keep reading to be introduced to some of this year's International Guests!
Featured International Guests of TCAF 2019 include:
Gabriel Bá and Fábio Moon: Writer/Artists, twin brothers, and frequent artistic collaborators, this Brazilian duo have collaborated to create wonderful works including the New York Times Bestselling Daytripper, Two Brothers (based on the work of Milton Hatoum), Casanova (with Matt Fraction), How To Talk To Girls At Parties (with Neil Gaiman), and even the official TCAF 2012 Poster! Gabriel Bá is also the co-creator of The Umbrella Academy (with Gerard Way), and will attend TCAF in support of the new Umbrella Academy series, Hotel Oblivion, as well as the series' live-action adaptation for Netflix.
Daria Bogdanska: Born in Warsaw, Poland, and a resident of Malmö, Sweden, Bogdanska is a cartoonist, bicycle mechanic, and plays in the punk band Two Wars. She attends TCAF in support of her new graphic novel Wage Slaves, published by Conundrum Press. Daria's presence is also graciously sponsored in part by The Stockholm International Comics Festival, as part of TCAF's ongoing cultural exchange with this organization.
Alexandre Clérisse: Paris-based Clérisse is a visual artist, illustrator, zine-maker, and self-publisher, who fell in love with comics in the city of Angoulême. His comics career took off from there, creating original works including Jazz Club (published by EuropeComics), Now Playing: A Seek-and-Find Book for Film Buffs (published by Chronicle), and the otherworld Atomic Empire (with author Thierry Smolderen, published by IDW Press). Clérisse attends TCAF with the support of the French Embassy to Canada, and EuropeComics.
Aimée de Jongh: Dutch graphic novel author, animator and illustrator, De Jongh was a daily newspaper strip cartoonist for five years who left the field in 2017 to make graphic novels full time. Her debut, The Return of the Honey Buzzard, won the Prix St Michel and was adapted to a live-action film. She attends TCAF in support of her second book, Blossoms in Autumn (with author Zidrou, published by SelfMadeHero), and her third book TAXI: Stories from the Back Seat (published by Conundrum Press). She attends TCAF with the support of Nova Scotia, The Netherlands Literature Fund, Conundrum Press, and Self Made Hero.
Kieron Gillen & Jamie McKelvie: UK-based creative team Kieron Gillen and Jamie Mckelvie first came to the public's attention with Phonogram, published by Image Comics. The two then teamed on Marvel's Young Avengers, before starting their next original project: The Wicked + The Divine, published by Image. After more than 8 volumes, this epic series concludes this May, and Gillen and McKelvie will attend TCAF in celebration of the series' conclusion. Kieron Gillen is also the co-creator of DIE by Image Comics (with Stephanie Hans), and the writer of various properties for Marvel including Star Wars, Thor, and the X-Men. Jamie McKelvie has drawn numerous series and created some of the era's best superhero costume designs, including Captain Marvel, Ms. Marvel, America Chavez, X-Men Blue Team, and more.
Stephanie Hans: Based in France, Stephanie Hans is a seasoned illustrator, and the co-creator of the new Image Comics-published, tabletop roll playing game-inspired DIE, with writer Kieron Gillen. She works as an illustrator for publishers in France and America. Hans attends TCAF with the support of The French Embassy to Canada.
Junji Ito: Master of modern manga horror, Junji Ito hails from Tokyo, Japan, and is best-known for his works Uzumaki, Tomie, GYO, and The Enigma of Amigara Fault, all published by VIZ Media. Junji Ito has also created a new original poster work for TCAF 2019, which will be printed and made available at the event. Junji Ito will attend TCAF in support of his new book Smashed: Junji Ito Story Collection, and with the support of VIZ Media.
Jason: The Norwegian cartoonist Jason has become internationally acclaimed for his anthropomorphic, clear-line style, across a wide-range of graphic novels including Hey, Wait…, Tell Me Something, I Killed Adolf Hitler, The Left Bank Gang, and many, many more. A frequent and welcome guest of TCAF, Jason attends the festival in 2019 in support of his new graphic novel O Josephine!, and with the support of publisher Fantagraphics, and NORLA, The Norwegian Literature Association.
Nora Krug: A German-American author and illustrator, Krug's drawings and visual narratives have appeared in The New York Times, The Guardian, Le Monde, and more. Krug attends TCAF 2019 in support of her newest book Belonging: A German Reckons with History and Home, about WWII and her own German family history. Debuting in late 2018, the book was chosen as a New York Times Critics' Top Book of 2018, The Guardians 50 Biggest books of 2018, and NPR Book of the year, among many other accolades. Krug will appear at programming on both days of TCAF, as well as a special event partnering with the Miles Nadal Jewish Community Centre on the afternoon of Friday May 10th. Krug appears at TCAF with the support of the Goethe Institut of Toronto.
The Toronto Comic Arts Festival will be held on Saturday May 11th, 9am-5pm, and Sunday May 12th, 10am-5pm at Toronto Reference Library, 789 Yonge Street, Toronto, Canada. Attendance is free to all events. Some events will require tickets, info TBA. For futher information please go to the website: www2.torontocomics.com