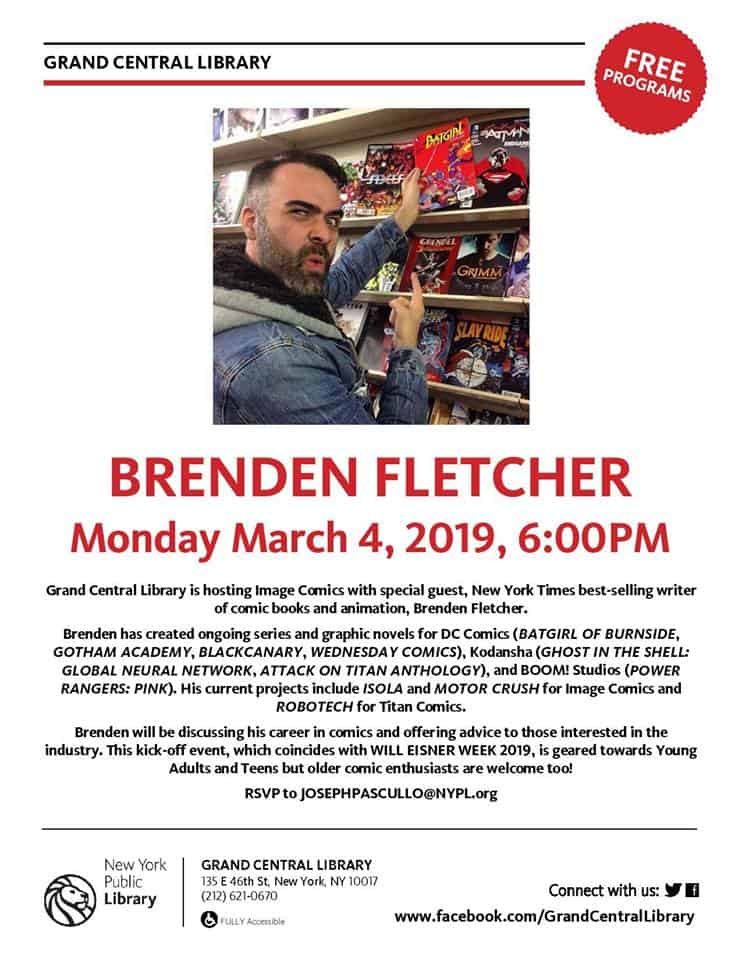 Grand Central Library hosts Image Comics with special guest, New York Times best-selling writer of comic books and animation, Brenden Fletcher, on Monday, March 4, 2019 at 6:00 PM.
11:00AM MORNING TALK AT FULL CAPACITY!!!
Brenden has created ongoing series and graphic novels for DC Comics (BATGIRL OF BURNSIDE, GOTHAM ACADEMY, BLACK CANARY, WEDNESDAY COMICS), Kodansha ( Ghost In The Shell: GLOBAL NEURAL NETWORK, ATTACK ON TITAN ANTHOLOGY), Adult Swim (TOONAMI) and BOOM! Studios (POWER RANGERS: PINK).
His current projects include ISOLA and MOTOR CRUSH for Image Comics and ROBOTECH for Titan Comics.
Brenden will be discussing his career in comics and offering advice to those interested in the industry. This kick-off event, which coincides with WILL EISNER WEEK 2019 (Will Eisner Week Official site), is geared towards Young Adults and Teens but older comic enthusiasts are welcome too!
RSVP to JOSEPHPASCULLO[AT]NYPL[DOT]ORG
NYPL Grand Central Branch
135 East 46th Street, New York, NY 10017
(212) 621-0670