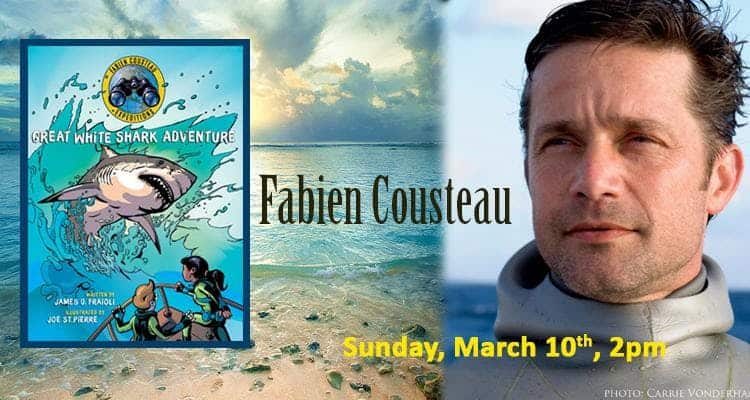 Fabien Cousteau appears at An Unlikely Story on Sunday, March 10, 2019 at 2 PM to present and sign Great White Shark Adventure.
Two young explorers join Fabien Cousteau and his team to get up close and personal with great white sharks in this start to a series of graphic adventure novels.
Junior explorers Bella and Marcus join famed explorer Fabien Cousteau and his research team as they embark on an ocean journey off the coast of South Africa, where the world's largest concentrations of great white sharks are found. Their mission is to investigate a sighting of a massive white shark, and tag it so they can track and protect it. Along the way, they'll encounter whales, seals, dolphins, penguins, and a colorful array of other marine life. They'll also enter a shark cage and come face to face with these powerful creatures.
Dramatic, graphic illustrations and a compelling story help young readers discover tons of facts about sharks and other marine creatures. Children will also learn the many damaging myths about sharks, why they are so misunderstood, and what is being done to protect them from further exploitation.
Fabien Cousteau champions the family legacy as third generation ocean explorer and filmmaker. Fabien has worked with National Geographic, Discovery, PBS and CBS to produce ocean exploration documentaries. He is routinely seen on network television, such as the Oprah Winfrey Show, Gayle King, and NBC's Today Show as well as appearing on ABC, NBC, CBS, FOX, CNN, France 2, NPR, MSNBC and many more. In 2014, Fabien achieved a monumental project called Mission 31, where he and a team lived and worked underwater for 31 days out of the world's only undersea marine laboratory, coverage for which had a press reach of over 21 billion.
Today, Fabien continues to produce environmentally oriented entertainment properties, public service announcements, multimedia programs for schools, web-based marine content, books, articles for magazines and newspaper columns, and public lectures, reaching millions of people globally.
An Unlikely Story
111 South St, Plainville, MA 02762
(508) 699-0244