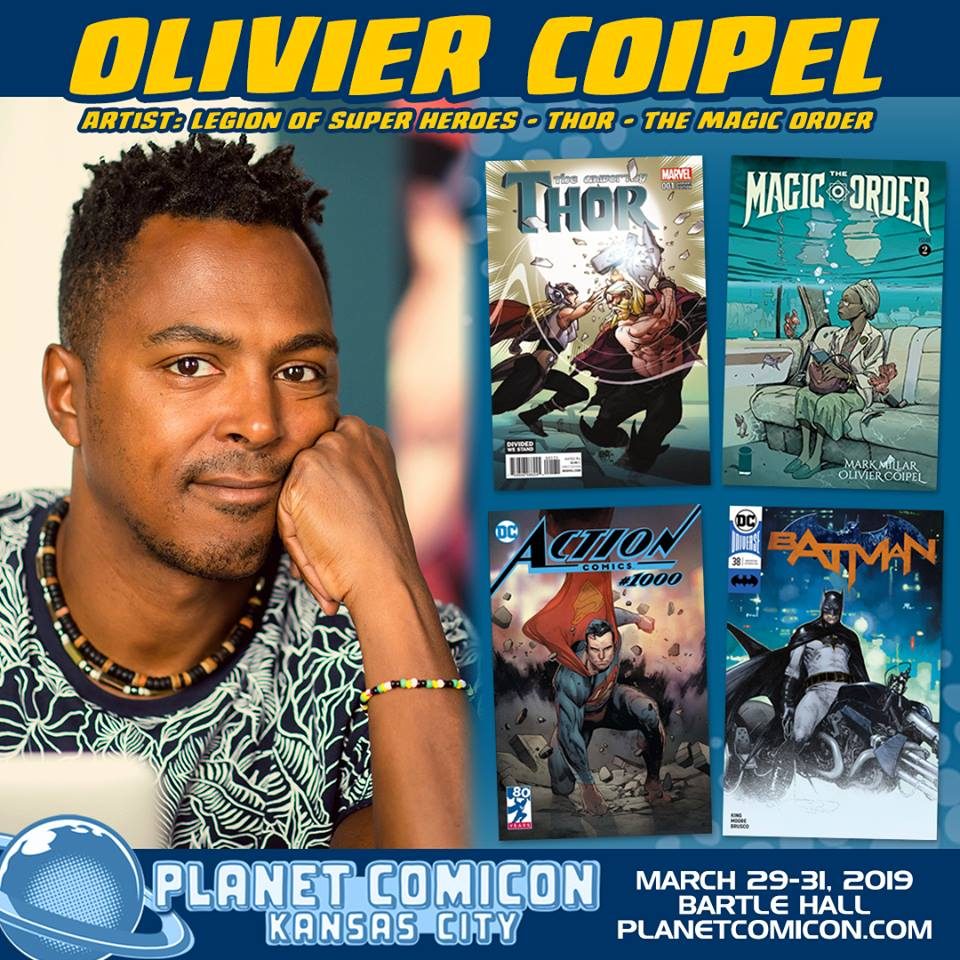 Press Release: 
Planet Comicon Kansas City 2019 is excited to welcome Olivier Coipel to our 20th anniversary event on March 29-30, 2019. Olivier has been a contributing artist for Avengers, X-Men, and Thor. He also worked to re-launch The Mighty Thor and completed three issues for Avengers vs. X-Men. He will be attending all three days!
Olivier Coipel is a French comic artist, who started on Legion of Super Heroes at DC comics. He then moved on to Marvel and has been producing work for Marvel comics since then. He has worked on books such as the Avengers, with Geoff Johns, a New Avengers/X-Men crossover limited series, House of M, teaming up with writer J. Michael Straczynski on the critically acclaimed book Thor, where Coipel created and designed the new look of the God of Thunder.
He then left the series to work with Bendis on the Marvel Comics event series Siege and even came back to re-launch The Mighty Thor with Matt Fraction. Coipel keeps on getting more and more popular, especially after completing his 3 issues on the mega popular AvX (Avengers vs X-Men) book!
He has also worked with Brian Wood on X-Men. His last Marvel project was Unworthy Thor with Jason Aaron. His last DC stint was being the variant cover artist on BATMAN and even completed a short story in Action Comics #1000 with Geoff Johns. As of this writing, he has just finished his creator owned project with Mark Millar. If you have not picked up The Magic Order, you are missing out!
SPECIAL RATES: We're offering a very special discount offer to all teachers, librarians, active duty military and first responders (fire, police, EMTs): 10% OFF ALL PLANET COMICON PASSES AND MEMBERSHIPS! For additional info, visit our online ticket page and click on "Discounted Membership" beneath "Event Information" on the left side of the page.
For more information about the 2019 show, event photos, interviews and more, "Like" Planet Comicon on Facebook and follow @PlanetComicon on Twitter. Planet Comicon Kansas City is always available online at www.planetcomicon.com.