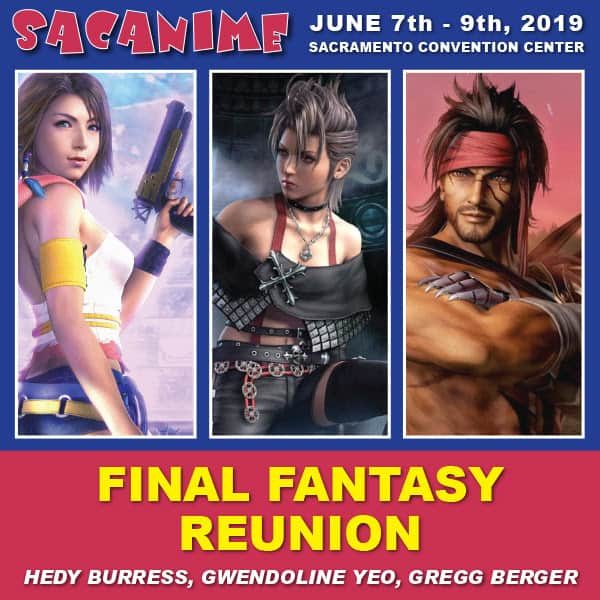 SacAnime welcomes Final Fantasy voice actors Hedy Burress (Yuna), Gwendoline Yeo (Paine), and Gregg Berger (Jecht) at SacAnime Summer 2019 on June 7th – 9th at the Sacramento Convention Center.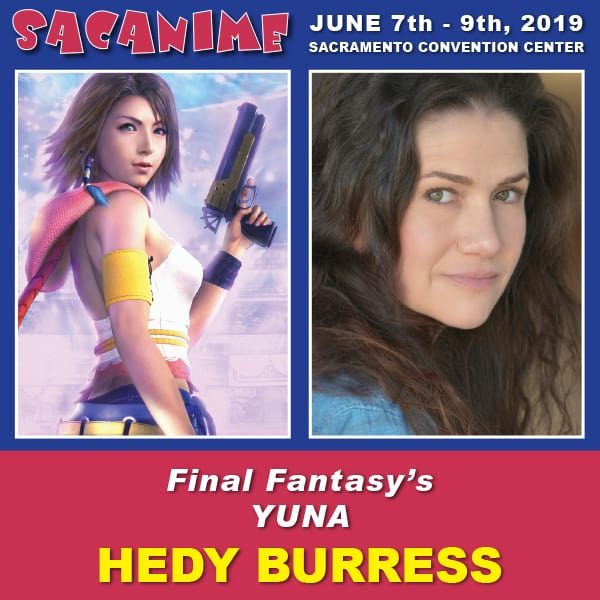 Heather Elizabeth "Hedy" Burress is an American actress. She had a starring role in the film Foxfire as Maddy, and later landed roles in television shows Boston Common and E.R.. In the video game world, she is best known as the English voice of leading character Yuna in Final Fantasy X and its sequel Final Fantasy X-2. She reprised her role as Yuna in World of Final Fantasy and Dissidia Final Fantasy NT. She is also the voice of Brody from Telltale Game's The Walking Dead: The Final Season.
Gwendoline Yeo is an American actress, voice actress, writer and musician best known for her role as Xiao-Mei in Desperate Housewives, Sun Foy in the film Broken Trail and as the voice of Shinigami in Nickelodeon's Teenage Mutant Ninja Turtles.
She has voiced several other popular animated characters including Cato Parassiti in Star Wars: The Clone Wars, Domino in Wolverine and the X-Men, Li Mei in The Invincible Iron Man, Lola Chong in Batman: The Dark Knight Returns, Gramma on Stitch!, Mercy Graves in The Batman and Li-en in Zatch Bell!. She has also guest starred on Phineas and Ferb, Kim Possible and What's New, Scooby Doo?.
In video games, Yeo is best known as Paine in Final Fantasy X-2 and Kingdom Hearts II. She was also the female lead in SOCOM 4 U.S. Navy SEALs as the character Forty-Five. Other notable video game credits include Lady Deathstrike in X-Men: Next Dimension, Yuma in Far Cry 4, and Four-Eyes in Resident Evil: Operation Raccoon City.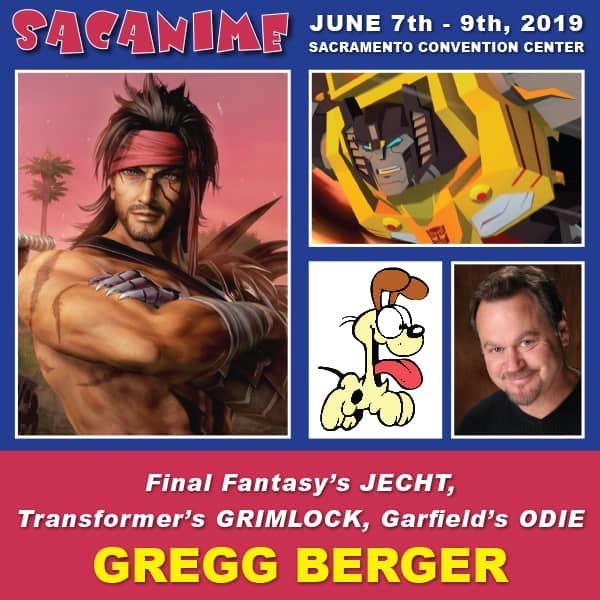 Gregg Berger is an American voice actor known for his roles as Jecht from Final Fantasy X and the Dissidia Final Fantasy games, Grimlock from The Transformers, Mysterio and Kraven the Hunter from Spider-Man, Cornfed Pig from Duckman, Agent Kay from Men in Black: The Series, The Gromble from Aaahh!!! Real Monsters, Captain Blue from Viewtiful Joe, Eeyore from Kingdom Hearts II, Hunter the Cheetah and Ripto from Spyro The Dragon, Odie the dog from Garfield and The Thing from Marvel: Ultimate Alliance.
SACANIME is being held on Friday, Saturday and Sunday June 7th – 9th, 2019 at the Sacramento Convention Center and Sheraton Grand Hotel. For more information, check out our website at: www.sacanime.com