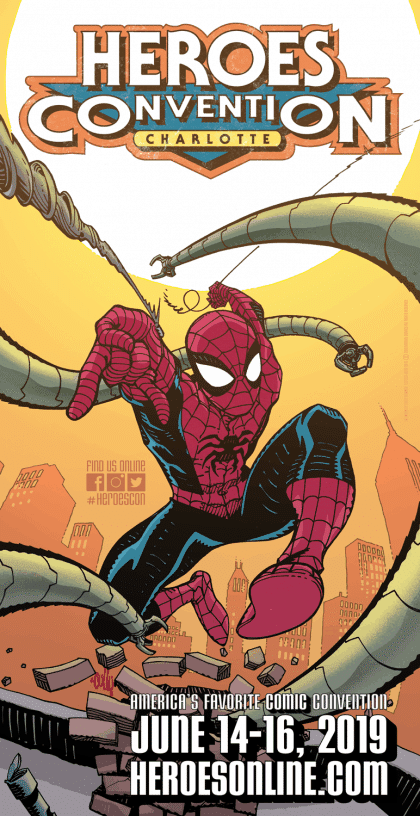 HeroesCon has announced the first guests for their 2019 show including Charles Vess, Stan Sakai, Mark Evanier, Gene Ha, John McCrea, Jose Luis Garcia-Lopez, Steve Epting, Katie Cook, Cully Hamner, Tim Sale, Cary Nord, Dan Panosian, Jenny Frison, Brian Stelfreeze, Matt Fraction, Kelly Sue DeConnick, and more! HeroesCon 2019 takes place on June 14-16, 2019 at the Charlotte Convention Center.
DUANE BALLENGER | AA-TBA
Haunted Samidge, Uptight, Wide Awake 666

DARRYL BANKS | AA-TBA
Green Lantern, Legion of Super Heroes, JLA

THOMAS BOATWRIGHT | AA-TBA
Zeke Deadwood, The Halloween Legion, Cemetery Blues

CHAD BOWERS | AA-TBA
Youngblood, X-Men '92, Down Set Fight!

WES BROOKS | AA-TBA
Undead Speed Equipment, Grim Riders

CHUCK BROWN | AA-804 
Bitter Root, Choosing Sides, BitterRoot, Femme Magnifique

CHRIS BRUNNER | AA-TBA 
Loose Ends, Southern Bastards, Batman: LOTDK

ERIC CANETE | AA-TBA
New Avengers: Luke Cage, Amazing Spider-Man, Iron Man

BRIDGIT CONNELL | AA-TBA
Brother Nash

KATIE COOK | AA-TBA
Nothing Special, My Little Pony: Friendship is Magic, Secret Wars: Secret Love, ABC-3PO, OBI-123

SHAWN CRYSTAL | AA-TBA
Mother Panic, Arkham Manor, Scarlet Witch

KELLY SUE DECONNICK | AA-TBA
Bitch Planet, Pretty Deadly, Captain Marvel

MASON DICKERSON | AA-TBA
Take-Out Deluxe, Los Tres Perdidos, Peach Tree, Patty Island

JOEY ELLIS | AA-TBA 
Leaky Timbers

STEVE EPTING | AA-TBA
Velvet, Captain America, Avengers

MARK EVANIER | AA-TBA
Kirby: King of Comics, Groo the Wanderer, New Gods
MICHEL FIFFE | AA-TBA
Copra, Zegas, Bloodstrike

SCOTT FOGG | AA-TBA
Phileas Reid Knows We Are Not Alone, Action Lab: Dog of Wonder

CHARLES FORSMAN | AA-TBA
Slasher, Revenger, TEOTFW, Celebrated Summer

MATT FRACTION | AA-TBA
Sex Criminals, Casanova, ODY-C, Hawkguy

JENNY FRISON | AA-TBA
Wonder Woman, Red Sonja
MONICA GALLAGHER | AA-TBA
Part-Time Princesses, Bonnie N. Collide Nine to Five, Boobage

JOSÉ LUÍS GARCIA-LÓPEZ | AA-TBA
Superman, Wonder Woman, Batman, Deadman, Twilight, Atari Force

JOE GIELLA | AA-TBA
Batman, Green Lantern, The Flash
MICHAEL GOLDEN | AA-TBA
The Nam, Punisher, Micronauts
STEPHEN GREEN | AA-TBA 
BPRD, The Legacy of Luther Strode, Dark Horse Presents

SANFORD GREENE | AA-TBA
Bitter Root, Power Man & Iron Fist, Runaways, Rotten Apple, Deadpool
TOM GRINDBERG | AA-TBA
Marvel Comics Presents, Silver Surfer, Daredevil
ROB GUILLORY | AA-TBA
Chew, Farmhand
GENE HA | HERO INITIATIVE BOOTH #1022
Top 10, The Adventures of Cyclops and Phoenix, Mae
JOHN HAIRSTON JR. | AA-TBA
1962: The Age of Marvels
BOB HALL | AA-TBA
West Coast Avengers, Shadowman 
CRAIG HAMILTON | AA-TBA
Aquaman, Starman, Fables, The Spectre
CULLY HAMNER | AA-TBA
The Question, Red, Batman
SCOTT HANNA | AA-TBA
Guardians of the Galaxy, Spider-Man, Batman, X-Men
DUSTIN HARBIN | AA-TBA
BEHOLD! The Dinosaurs, DIARY COMICS, DHARBIN!
TONY HARRIS | AA-TBA
Blood Blister, Starman, JSA, Ex Machina
JASON HORN | AA-TBA
Aw Yeah Comics, Ninjasaur, Gruff
KLAUS JANSON | AA-TBA
Batman: The Dark Knight Returns, Daredevil, Spider-Man
CASEY JONES | AA-TBA
Nightwing, Fantastic Four, Exiles, Excalibur, New Warriors
KELLEY JONES | AA-TBA
Batman, The Sandman
CHRIS KEMPLE | AA-TBA
Red Vengeance, Fallout, Negative Burn, Fantastic Worlds
GREG LAND | AA-TBA
Uncanny X-Men, Weapons X, The Incredible Hulk
JASON LATOUR | AA-TBA
Southern Bastards, Spider-Gwen, Loose Ends, Black Cloud
MINDY LEE | AA-TBA
Bounty 
STEVE MANNION | AA-TBA
Galaktikon, Fearless Dawn, The Bomb, Tales from the Crypt, Spook House
JOHN McCREA | HERO INITIATIVE BOOTH #1022
The Demon, Hitman, Mars Attacks
BILL MCKAY | AA-TBA
Zombie Tramp, Dollface, Vampblade
DREW MOSS | AA-TBA
Copperhead, Terrible Lizard, The Colonized, The Crow: Pestilence, In the Dark
CARY NORD | AA-TBA
Conan, X-O Manowar, Eternal Warrior, Mutant X, Daredevil
JERRY ORDWAY | AA-TBA
Superman, Captain Marvel, Infinity Inc., WildStar
TOM PALMER | AA-TBA
Star Wars, Avengers, X-Men, Daredevil, Tomb of Dracula, Kick-Ass
DAN PANOSIAN | AA-TBA
Slots, John Tiffany, Batwing, All Star Western
JOE PEKAR | AA-TBA
Grimm Fairy Tales, Brandi Bare, Spider-Man: Shattered Dimensions
RAMÓN PÉREZ | AA-TBA
Hawkeye, Tale of Sand, Spider-Man
ED PISKOR | AA-TBA
Hip Hop Family Tree, X-Men: Grand Designs, Wizzywig, American Splendor
ERIC POWELL | AA-TBA
The Goon, Big Man Plans, Hillbilly
PAT QUINN | AA-TBA
The Phantom, GI Joe: Declassified, Necrotic
ROD REIS | AA-TBA
Damnation, Secret Empire, C.O.W.L., Hadrian's Wall
RICO RENZI | AA-TBA
Goddess Mode, Bitter Root, Spider-Gwen, The Unbeatable Squirrel Girl, Loose Ends
ANDREW ROBINSON | AA-TBA
The Fifth Beatle, Dusty Star, Friendly Neighborhood Spider-Man, Winter Soldier
BUDD ROOT | AA-TBA
Cavewoman
DON ROSA | AA-TBA
The Life and Times of Uncle Scrooge, Walt Disney's Comics and Stories
JIM RUGG | AA-TBA
Street Angel, Supermag, Afrodisiac
ANDY RUNTON | AA-TBA
Owly
STAN SAKAI | AA-TBA
Usagi Yojimbo, 447 Ronin, Groo the Wanderer
TIM SALE | AA-TBA
Captain America, Batman, Spider-Man, Catwoman
MATTEO SCALERA | AA-TBA
Black Science, Dead Body Road, Ghosted, Hulk, Avengers
BILL SIENKIEWICZ | AA-TBA
Elektra: Assassin, Stary Toasters, New Mutants
CHRIS SIMS | AA-TBA
X-Men '92, Down Set Fight!, Swordquest
HOYT SILVA | AA-TBA
Adventures in Crime, Operation: Nemesis, Quatermain: Ghosts of the Nzadi 
ANDY SMITH | AA-TBA
Demi-God, Thanos, X-Men, Stormwatch, Wolverine, Superman, Batman
STORME SMITH | AA-TBA
Buño Books
CHRIS SPARKS | AA-TBA
Team Cul de Sac, The Art of Richard Thompson
DOMO STANTON | AA-TBA
Starbrand & Nightmask, Prez, Deadpool, Chozen
KYLE STARKS | AA-TBA
Rock Candy Mountain, Rick and Morty, Sexcastle, Legend of Ricky Thunder
JOE STATON | AA-TBA
Green Lantern, E-Man, Dick Tracy, Scooby Doo
BRIAN STELFREEZE | AA-TBA
Black Panther, Day Men, Wednesday Comics, Batman
JOHN TIMMS | AA-TBA
Harley Quinn
WILFREDO TORRES | AA-TBA
Legion, Jupiter's Circle, The Shadow: Year One, Lobster Johnson, Aliens
DEAN TRIPPE | AA-TBA
Something Terrible, Power Lunch, Butterfly, Project: Rooftop
CHARLES VESS | AA-TBA
Stardust, Book of Ballads
MICHAEL WATKINS | AA-TBA
Villains Supreme, Femme Noir, Transformers, Sonic The Hedgehog
LEE WEEKS | AA-TBA
Batman, Superman, Daredevil, Incredible Hulk, Spider-Man
DAVID ANTOINE WILLIAMS | AA-TBA
X-Men: First Class, GI Joe, Incredible Hercules, Hulk & Power Pack
RENEE WITTERSTAETTER | AA-TBA
Excess: The Art of Michael Golden, Joe Jusko: Savage Beauty
MIKE ZECK | AA-TBA
Secret Wars, Punisher, Captain America
For the most up-to-date information, check our blog, or sign up for the weekly Heroes Hotline newsletter. You can also follow us on Twitter and Facebook!
BUYING AN ADVANCE PASS MEANS YOU'LL GET ANY ADVANCE INCENTIVES WE OFFER, FREE!
ENTRY WILL BE $25: FRI $25: SAT $20: SUN / AT THE SHOW ITSELF, SO YOU SAVE AS MUCH AS $20 BY PURCHASING ADVANCE PASSES TODAY! TICKETS ARE NOT REFUNDABLE, UNDER CERTAIN CIRCUMSTANCES WE MAY CREDIT AN UNUSABLE TICKET TOWARD FUTURE TICKET PURCHASES.
HEROES CONVENTION was founded in 1982 by Shelton Drum, owner of Charlotte's Heroes Aren't Hard To Find comics shop. Since then the convention has become famous for its comics-first and family-friendly atmosphere, where fans can mingle directly with professionals and exhibitors. Boasting an incredible guest list built mainly on reputation and goodwill, HeroesCon is known nationwide as a "must" on the summer schedule, drawing fans, exhibitors, and creators from all over the world to the Charlotte Convention Center.