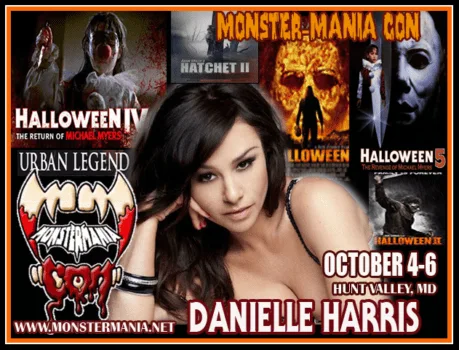 Please join us in welcoming DANIELLE HARRIS back to MONSTER-MANIA CON 442 in HUNT VALLEY, MD!
HALLOWEEN film fans will certainly recognize DANIELLE HARRIS for her role as JAMIE LLOYD in both 1988's HALLOWEEN IV: THE RETURN OF MICHAEL MYERS and also 1989's HALLOWEEN V: THE REVENGE OF MICHAEL MYERS. DANIELLE returned to the franchise for her role as ANNIE BRACKETT in the Rob Zombie 2007 HALLOWEEN reboot and then reprised her role in Rob Zombie's 2009 sequel HALLOWEEN II. DANIELLE will be joining us for our HALLOWEEN franchise reunion at the show!
The list of films and other projects that DANIELLE has starred in seems nearly endless. DANIELLE played the role of TOSH GUANERI in the popular 1998 horror film URBAN LEGEND. DANIELLE played the role of ALISSA in 2009's BLOOD NIGHT: THE LEGEND OF MARY HATCHET and has starred in such other horror related projects as FEAR CLINIC, VICTOR CROWLEY, HATCHET III, SEE NO EVIL 2, HOLISTON, CAMP DREAD, CHROMESKULL: LAID TO REST 2 and many more.
Film fans will also recognize DANIELLE for her roles in films such as THE LAST BOY SCOUT, FREE WILLY, DON'T TELL MOM THE BABYSITTER'S DEAD and many more. Television series fans will certainly remember her role in ROSEANNE, THAT'S LIFE and THE WILD THORNBERRYS.
Don't miss your chance to meet DANIELLE HARRIS at the show! VIP tickets are already selling very quickly! Visit our ticket webpage and order your tickets today!
Ticket webpage: https://purchase.growtix.com/eh/Monster_Mania_Con_44
For more info be sure to visit our website at www.monstermania.net