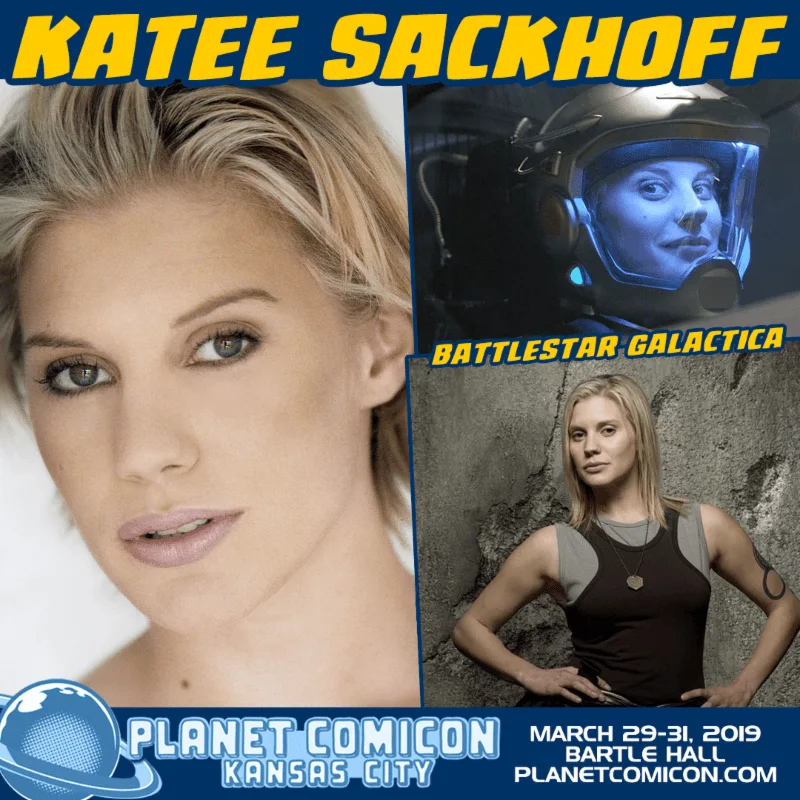 Press Release:
Planet Comicon Kansas City, the largest and longest-running comic book convention and pop culture event in the region, is thrilled to announce the addition of Katee Sackhoff to our 20th anniversary lineup of celebrity guests. Sackhoff is best known for playing Lieutenant Kara "Starbuck" Thrace in Battlestar Galactica. Her recent credits include The Flash and Longmire. Katee will be at Planet Comicon on Saturday and Sunday.
Sackhoff's rough and ready portrayal of hotshot pilot Kara "Starbuck" Thrace was stealing scenes on the critically acclaimed Battlestar Galactica from her first episode, turning heads and winning a Saturn award along the way. The actress known for fighting evil robots on BSG became one herself when she played the villain in NBC's update of the classic Bionic Woman series. Her following TV credits include a four-episode turn on Nip/Tuck as Teddy Rowe, a three-episode stint on CSI as Detective Frankie Reed, and starring as a regular on the eighth season of 24 as Dana Walsh and the A&E/Netflix series Longmire as Victoria 'Vic' Moretti.
Sackhoff has also been sharpening her vocal talents on shows like The Super Hero Squad Show, Star Wars: The Clone Wars, Star Wars Rebels, and recently lent her voice to Comedy Central's ever-humorous and irreverent Robot Chicken, most notably as Bitch Puddin'.
And there's many more creator, cosplay and celebrity announcements to come!
Celebrity Guests
Dean Cain (Lois & Clark: The New Adventures of Superman) – Fri./Sat. only
Tom Welling (Smallville, Lucifer)
Michael Rosenbaum (Smallville, Justice League Unlimited, Guardians of the Galaxy Vol. 2) – Sat./Sun. only
James and Oliver Phelps (Harry Potter Series)
Bonnie Wright (Harry Potter Series)
Tara Strong (Teen Titans Go!, Powerpuff Girls)
John Wesley Shipp (The Flash)
Cary Elwes (The Princess Bride, Stranger Things)
Chris Sarandon (The Princess Bride, The Nightmare Before Christmas)
Mark Pellegrino (Supernatural, Being Human, Lost)
Lori Petty (Tank Girl, A League of Their Own, Orange is the New Black)
Joonas Suotamo (The Last Jedi, Solo)
Creator Guests
Kevin Eastman (Teenage Mutant Ninja Turtles)
Doug Mahnke (Detective Comics, Superman, Justice League)
Jason Aaron (Star Wars, Thor)
Chris Claremont (Uncanny X-Men)
Bob McLeod (The New Mutants)
Amanda Conner (Harley Quinn, Justice League of America)
Jimmy Palmiotti (Harley Quinn, Painkiller Jane)
Denys Cowan (Black Panther, Black Lightning/Hong Kong Phooey)
Brandon Sanderson (Mistborn, The Stormlight Archive)
Mark Texeira (Ghost Rider, Black Panther, Jonah Hex)
Patricia Briggs (Mercy Thompson novels)
Jose Luis Garcia-Lopez (Superman, Batman, Jonah Hex) 

Phil Hester (Batman Beyond, Shipwreck)
Megan Levens (Buffy the Vampire Slayer, Star Trek)
Ant Lucia (DC Bombshells)
Ande Parks (Batman Beyond, Daredevil, Ant-Man)
Skottie Young (Spider-Man, Avengers, Deadpool, Guardians of the Galaxy)
Steve McNiven (Wolverine, Old Man Logan, Civil War)
Afua Richardson (Black Panther, Batman, X-Men)
Fabian Nicieza (Cable and Deadpool, X-Men, X-Force)
Cosplayer Guests
Kamui Cosplay (Internationally acclaimed costume designer and author) – Sat./Sun. only
For more information about the 2019 show, event photos, interviews and more, "Like" Planet Comicon on Facebook and follow @PlanetComicon on Twitter. Planet Comicon Kansas City is always available online at www.planetcomicon.com.