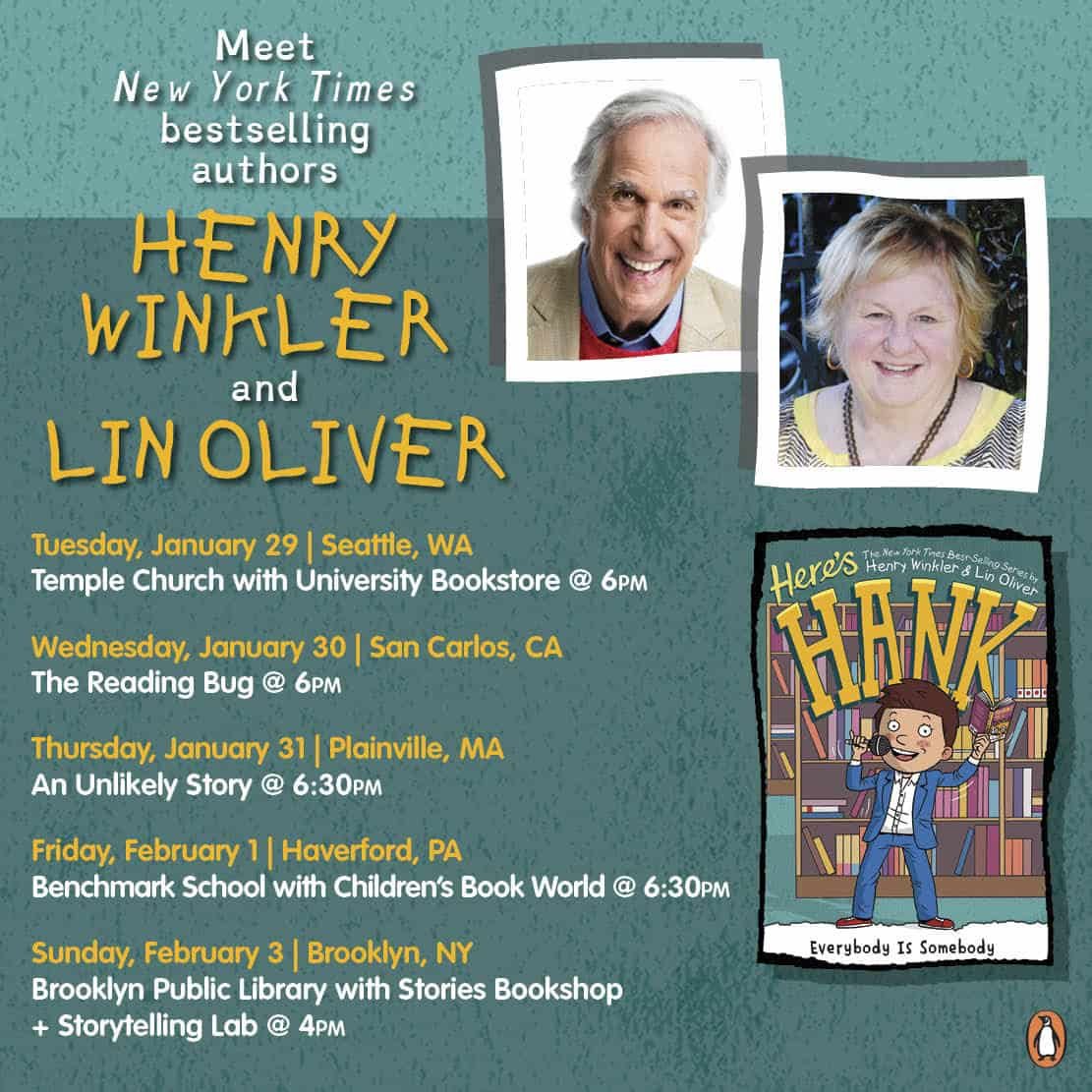 Press Release:
The Reading Bug is thrilled to host Henry Winkler and Lin Oliver on Wednesday, January 30, 2019 at 6 PM! Henry and Lin will present their fantastic series for early readers (recommended for ages 6-8 years), HERE'S HANK! Book #12, Everybody is Somebody releases on 1/29. After the presentation, there will be a brief Q&A followed by book signing. Their series for ages 8-12 years, Hank Zipzer will also be available!
When a well-known author of a beloved book series visits Hank's school, he and his two best friends get the chance to be her guide for the day and introduce her at an assembly. But Hank, embarrassed by his struggles with reading, tries to hide the fact that he's never actually finished reading the author's books–or any book, for that matter! So Hank gets creative and makes up his own version of the story. But will everyone be able to tell fact from fiction?
About the Authors
Henry Winkler is an actor, producer, and director, and he speaks publicly all over the world. In addition, he has a star on the Hollywood Boulevard, was awarded an honorary Order of the British Empire, and the jacket he wore as the Fonz hangs in the Smithsonian Museum in Washington, DC. But if you asked him what he was proudest of, he would say, "Writing the Hank Zipzer books with my partner, Lin Oliver," He lives in Los Angeles with his wife, Stacey. They have three children named Jed, Zoe, and Max, and two dogs named Monty and Charlotte. Charlotte catches a ball so well that she could definitely play outfield for the New York Mets.
Lin Oliver is a writer and producer of movies, book, and television series for children and families. She has written forty-two books for children and one hundred episodes of television. She is cofounder and executive director of the Society of Children's Book Writers and Illustrators, an international organization of twenty thousand authors and illustrators of children's books. She lives in Los Angeles with her husband, Alan. They have three sons named Theo, Ollie, and Cole. She loves tuna melts, curious kids, any sport that involves a racket and children's book writers everywhere.
The Reading Bug
785 Laurel Street, San Carlos, CA 94070
650-591-0100