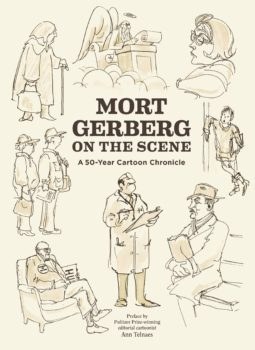 Mort Gerberg appears at Book Culture on Columbus on Wednesday, January 30, 2019 at 7 PM for the launch of Mort Gerberg on the Scene, with The New Yorker's cartoon editor Emma Allen.
Mort Gerberg broke into print with irreverent drawings in The Realist in the early '60s, whose social-justice-minded—and bitingly funny—cartoons have since appeared in all major magazines, including The New Yorker, Playboy, and the Saturday Evening Post. As a reporter, he's sketched historic scenes like the fiery Women's Marches of the '60s and the infamous '68 Democratic National Convention.
Above all, Mort Gerberg is a keen political and social observer, whose curiosity, compassion, and razor-sharp wit has informed his work for over 50 years. Fantagraphics Underground is proud to present this handsome career retrospective of Gerberg's magazine cartoons, sketchbook drawings, and on-the-scene reportage sketches.
Book Culture on Columbus
450 Columbus Ave, New York, New York 10024
(212) 595-1962