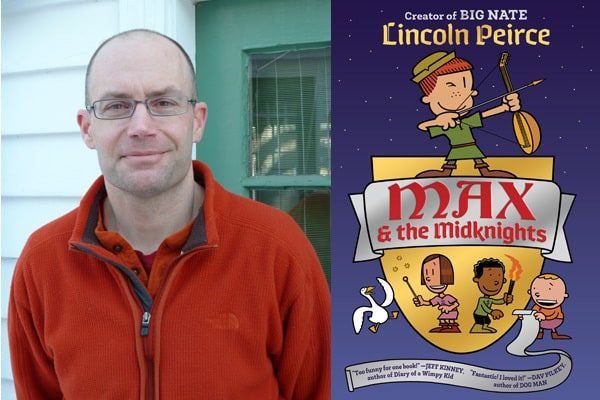 Press Release:
Join Blue Willow Books and hear from Lincoln Peirce, the creator of BIG NATE, as he discusses and signs his hilarious new middle grade novel, MAX AND THE MIDKNIGHTS on Wednesday, January 30, 2019 at 5 PM.
In order to go through the signing line and meet Lincoln Peirce for book personalization, you must purchase MAX AND THE MIDKNIGHTS from Blue Willow Bookshop. You may pre-order the book on our website, or purchase it in-store the day of the event while supplies last. (By buying the book at our store, you help to ensure that publishers keep sending fantastic writers to Houston—thank you!)
You can pre-order the book or learn more about the event here…
ABOUT THE BOOK:
Max wants to be a knight! Too bad that dream is about as likely as finding a friendly dragon. But when Max's uncle Budrick is kidnapped by the cruel King Gastley, Max has to act…and fast! Joined by a band of brave adventurers–the Midknights–Max sets out on a thrilling quest: to save Uncle Budrick and restore the realm of Byjovia to its former high spirits!
Magic and (mis)adventures abound in this hilarious illustrated novel from the New York Times bestselling creator of the Big Nate series, Lincoln Peirce.
ABOUT THE AUTHOR:
When he is not writing or drawing, Lincoln enjoys playing ice hockey, doing crossword puzzles, and hosting a weekly radio show devoted to vintage country music. He and his wife, Jessica, have two children and live in Portland, Maine.
Blue Willow Books
14532 Memorial Drive, Houston, TX 77079
281.497.8675