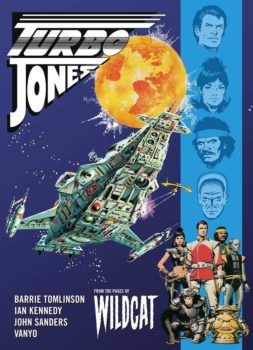 Ian Kennedy and Barrie Tomlinson sign WILDCAT VOL. 1: TURBO JONES at the Forbidden Planet Newcastle Megastore on Saturday 5th January from 1 – 2pm!
In 2488 Earth history professor, Turbo Jones predicted that the planet would be destroyed in 2500 by a vast meteoroid storm. Ridiculed by the world's leaders, Turbo spent the next twelve years constructing a huge spaceship and employing a group of volunteers to help him leave the Earth and find a new home in the stars…
After months in space, Turbo and his senior staff including former mercenary Loner, the mysterious Kitten Magee and the last survivor of Xgangbe-4, Joe Alien, have found a potential new home. Now they need to get down onto the planet and make sure that it is safe for the five hundred colonists and livestock aboard the Wildcat…
Ian Kennedy has illustrated a host of favourite titles, including M.A.C.H 1 and Judge Dredd for 2000AD, Timequake for Starboard, Dan Dare for the revived Eagle, Turbo Jones for Wildcat, Marvel's Blake's 7 and covers for Starblazer. He's also painted covers for the annual RAF Leachaurs Air Show programmes, and still produces covers for Commando.
Barrie Tomlinson's writing credits include Death Wish, Survival, Dan Dare, Ghost Squad and S.O.S for Eagle, and Scorer for the Daily Mirror. He was the second editor of the long-running sports-themed comic Tiger, the first and longest serving editor of Roy of the Rovers, guiding Roy's career for several decades, and responsible for the creation of the short-lived but fondly remembered Scream!.
Forbidden Planet
49 Grainger Street Newcastle NE1 5JE
0191 261 9173