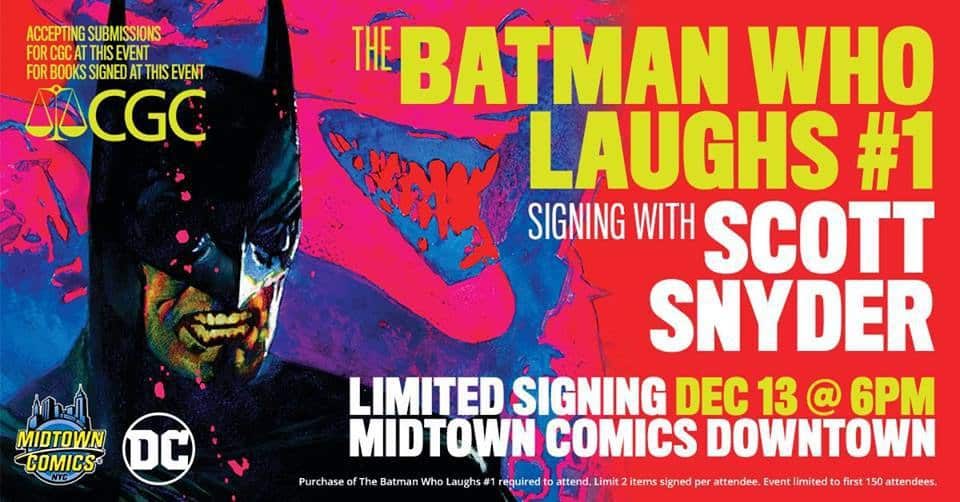 Writer Scott Snyder (Justice League, Batman, Wytches) appears at Midtown Comics Downtown on Thursday, December 13th at 6:00 PM to celebrate the release of The Batman Who Laughs #1! This is a LIMITED signing and only the first 150 people will be able to attend, so please arrive early, just to be safe. Purchase of The Batman Who Laughs #1 required. Limit 2 items signed per attendee.
There will be a CGC representative to grade books signed at this event. Any previously signed books are not eligible for this service.
Cost of CGC is $15.00 + CGC grading fee (This does not include the cost of purchasing the books)
CGC books will be shipped to CGC offices for grading and will take 17-35 days for them to return, in the CGC protective slab. This is determined based on which options are chosen for CGC grading and shipping.
During Dark Nights Metal, Bruce Wayne peered into the abyss and met his worst nightmares brought to life. Even though these evils were eventually vanquished, the Dark Knight has his doubts that they've been truly defeated. When he discovers that the Batman Who Laughs not only survived his encounter on Challengers Mountain but has in fact begun concocting a sinister plan for revenge, he realizes that the only way to stop this madman is to kill him. Will Batman violate the guiding principle he has held onto his entire life in order to stop the ultimate evil? Scott Snyder revisits his monstrous creation in an epic mini-series with acclaimed artist Jock in Batman Who Laughs!
Midtown Comics Downtown
64 Fulton Street, New York, New York 10038
(212) 302-8192