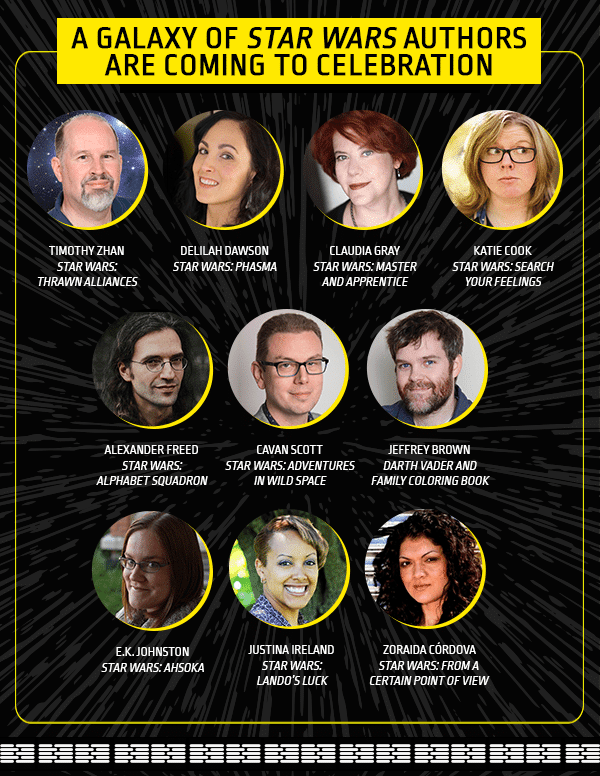 Star Wars Celebration Chicago welcomes some of the most prominent Star Wars authors and artists to the convention on April 11-15th! With a body of work that spans novels, comics, storybooks, coloring books and more, fans will be able to meet and great their favorite creators and get their work signed over all five days.
Guest authors and artists will include:
Timothy Zahn, author of Star Wars: Thrawn Alliances
Delilah Dawson, who penned Star Wars: Phasma
Claudia Gray, whose titles include the forthcoming Star Wars: Master & Apprentice
Katie Cook, illustrator and co-author of Star Wars: Search Your Feelings
Alexander Freed, author of the upcoming Star Wars: Alphabet Squadron
Cavan Scott, author of Star Wars: Adventures in Wild Space
Jeffrey Brown, whose titles include the Darth Vader and Family Coloring Book
EK Johnston, who wrote the novel Ahsoka
Justina Ireland, author of Lando's Luck
Zoraida Córdova, contributor to the anthology Star Wars: From A Certain Point of View
Stay tuned to StarWars.com for more Star Wars Celebration Chicago updates!
Star Wars Celebration Chicago will take place April 11-15 at McCormick Place. Visit StarWarsCelebration.com for tickets and more info!