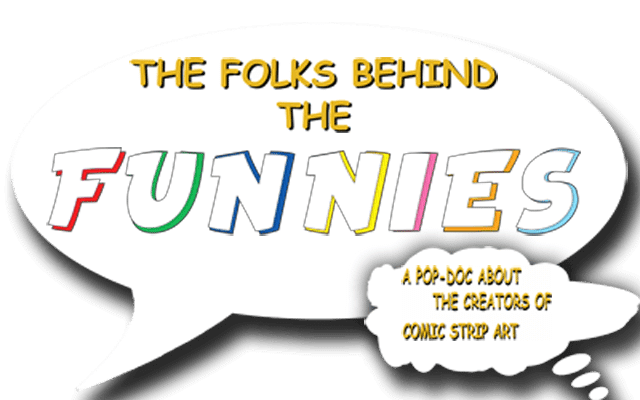 Press Release:
Sari Armington premieres her film The Folks Behind the Funnies at The Cartoon Art Museum on Friday, December 7th, 2018 at 6:30 PM. Tickets are available online on Eventbrite and, if capacity allows, at the door.
Every day, to millions of readers in almost every nation on earth, comic strip characters appear as familiar friends in newspapers and on the internet. Yet few of us know much about the cartoonists who created them. One-on-one interviews with twenty-one of the world's most popular newspaper cartoonists, brings us up close and personal with these delightful creators.
The Folks Behind the Funnies is a loving tribute to the art of comic strips and the people behind them. These never-seen-before interviews are timeless.
Featuring:
Scott Adams, Dilbert
Chris Browne, Hagar the Horrible
Darby Conley, Get Fuzzy
Ron Ferdinand, Dennis the Menace
Cathy Guisewite, Cathy (retired)
Marcus Hamilton, Dennis the Menace
Bunny Hoest, The Lockhorns, Laugh Parade, Howard Huge
Lynn Johnston, For Better or for Worse (Canadian)
Bil Keane, The Family Circus
Jeff Keane, The Family Circus
Rick Kirkman, Baby Blues
Mell Lazarus, Momma, Miss Peach
Patrick McDonnell, Mutts
Steve McGarry, Badlands
John McMeel, Andrews McMeel Universal
Stephan Pastis, Pearls Before Swine
Dan Piraro, Bizarro
Hilary Price, Rhymes with Orange
Jerry Scott, Zits, Baby Blues
Rick Stromoski, Soup to Nutz
Brian Walker, Hi & Lois
Mort Walker, Beetle Bailey
The Folks Behind the Funnies was originally co-produced as a national PBS documentary on the history of the comic strips, looking broadly at comic strips from the 1950s to the present.  Principal photography started in May 2003. In October of that year, the film's director/producer, Nicholas Armington passed away in an accident. The project was left dormant until 2015 when Sari Armington (Nicholas's widow and business partner) revived the footage.
Sari Armington has been a film maker with broadcast credits on PBS and other outlets. The documentary, The Plunge: Time Lapse Through History was instrumental in the restoration of the iconic Richmond Natatorium.
Cartoon Art Museum
781 Beach Street, San Francisco, CA 94109
(415) 227-8666