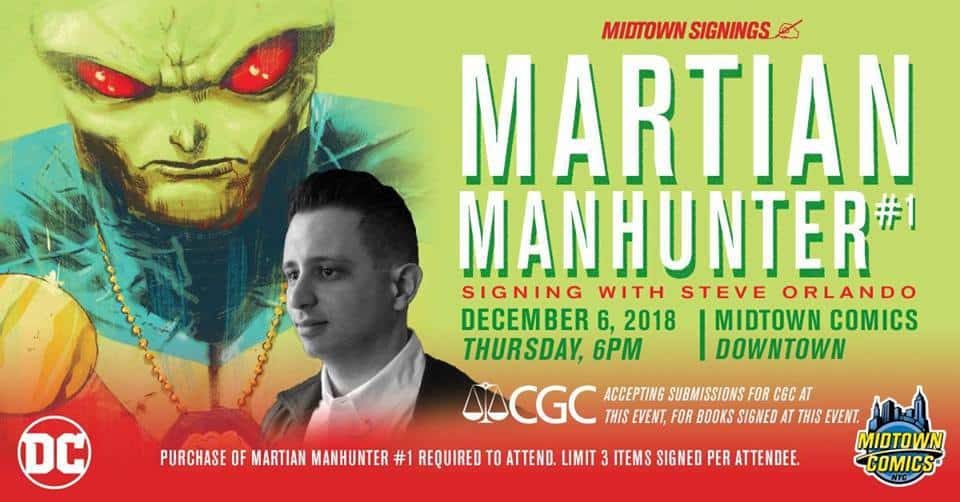 Writer Steve Orlando (Wonder Woman, The Unexpected, Crude) appears at Midtown Comics Downtown on Thursday, December 6th at 6 PM to celebrate the release of Martian Manhunter #1! This is an open signing and we recommend showing up early, just to be safe. Purchase of Martian Manhunter #1 required. Limit 3 items signed per attendee.
J'onn J'onnz is the Martian Manhunter, the leader of the Justice League and a man on the run from his own past. Long before he ever came to Earth, J'onn was a corrupt police officer from Mars. When a reckoning comes for his entire society, J'onn will get a second chance to be a better man, but it's a life he doesn't want or deserve! Now, one shocking murder and an unexpected fragment of the Mars he lost will come hurtling into his present life, and change the course of the Earth forever! Writer Steve Orlando and artist Riley Rossmo present a 12-issue mini-series of epic proportions with Martian Manhunter!
There will be a CGC representative to grade books signed at this event. Any previously signed books are not eligible for this service.
Cost of CGC is $10.00 + CGC grading fee (This does not include the cost of purchasing the books)
CGC books will be shipped to CGC offices for grading and will take 17-35 days for them to return, in the CGC protective slab. This is determined based on which options are chosen for CGC grading and shipping.
Midtown Comics Downtown
64 Fulton Street, New York, New York 10038
(212) 302-8192