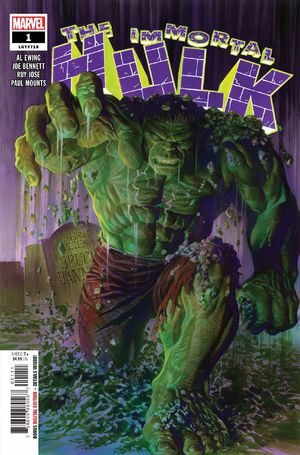 Writer Al Ewing will be signing IMMORTAL HULK VOL. 1 and the YOU ARE DEADPOOL DELUXE BOXED SET at the Forbidden Planet London Megastore on Wednesday 21st November from 6 – 7pm.
In IMMORTAL HULK, horror has a name! You'd never notice the man. He doesn't like to be noticed. He's quiet. Calm. If someone were to shoot him in the head all he'd do is die. Until night falls – and someone else gets up again.
The man's name is Banner. The horror is the Immortal Hulk!
And trouble has a way of following them both. As reporter Jackie McGee tries to put together the pieces, Banner treads a lonely path from town to town, finding murder, mystery and tragedy as he goes. And what Banner finds, the Hulk smashes!
Elsewhere, the hero called Sasquatch can't help but feel involved. In many ways, he's Banner's equal – and his opposite. Sasquatch is about to risk his life by looking for the man – and finding the monster!
The YOU ARE DEADPOOL BOXED SET offers you that very chance! This ain't no ordinary comicbook, this is also a role-playing adventure where you are the (not) hero, Deadpool!
You keep track of your score adventure by adventure. You roll dice to battle indescribable foes. You travel through Marvel history as the Merc with a Mouth and meet the Hulk in the swinging 60s! Smell Man-Thing in the psychedelic 70s, and encounter Daredevil in the hard-boiled 80s. Success or failure is yours to decide!
Al Ewing began his career writing Judge Dredd and Future Shocks for 2000AD. He's contributed to Solar Wind, FutureQuake and The End Is Nigh, and is the creator of the comedic blog The Diary of Ralph Dibney.
Breaking into American comic books, Ewing was picked by Garth Ennis to provide a six-issue arc on Jennifer Blood, and a spin-off series The Ninjettes. Ewing's debut novel was published in 2007 by Abaddon Books.
Forbidden Planet London Megastore
179 Shaftesbury Avenue, London, WC2H 8JR
0207 420 3666