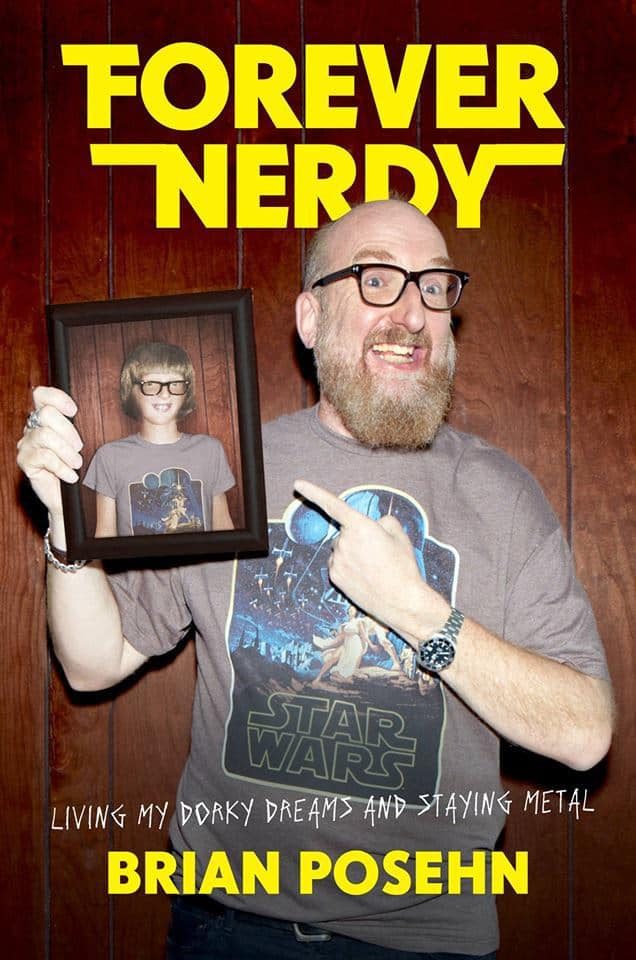 Press Release:
The Bindery hosts a special evening with comedian, actor, and forever nerd Brian Posehn for his new memoir Forever Nerdy: Living My Dorky Dreams and Staying Metal on Monday, November 12, 2018. This is a free and all ages event. The bar opens at 7, event begins at 7:30pm.
"I'm a full-blown nerd," Posehn writes in the preface. "And by full-blown nerd, I mean I'm obsessed with a bunch of cool stuff that dumb people think is uncool, like comics, Dungeons & Dragons, action and horror movies, and HEAVY FUCKING METAL."
Forever Nerdy is a collection of stories from his life that amount to a celebration of growing up nerdy and different. Brian, now middle-aged with a wife, child, and thriving career, still feels like an outsider and is as big a nerd as ever. But that's okay, because in his five decades of nerdom he's discovered that the key to happiness is not growing up. You can be a nerd forever and still become a beloved comedian, writer, and actor. Or, as Brian introduces himself, "a mildly successful, not-so-widely known stand-up comic, writer, and actor mostly known for playing weirdos and half-wits in sitcoms."
We learn of his retreats to the Dunbar Elementary school library which, of all places, is where his obsession with KISS began; his watching Jaws repeatedly at his local movie theatre in the summer of '75; the lethal combo of being super tall and super skinny with dorky black framed glasses, pimples, and braces; reading The Exorcist for the first time; getting kicked out of the house by his mother at 19; and that he inherited the dark side of his humor from Grandpa and the crass side from Nana.
Brian Posehn has appeared on Lady Dynamite, The Big Bang Theory, New Girl, The Sarah Silverman Program, and was a writer and performer on HBO's Mr. Show. He co-produced Netflix's With Bob and David and starred in the dark indie comedy Uncle Nick. He hosts and produces the Nerd Poker podcast and co-wrote a run of Marvel's Deadpool. His next project is a comedy metal album titled Offenders of the Fake, featuring members of Anthrax, Dethklok, Slayer, and Soundgarden.
The Bindery
1727 Haight Street, San Francisco, CA 94117
(415) 863-8688