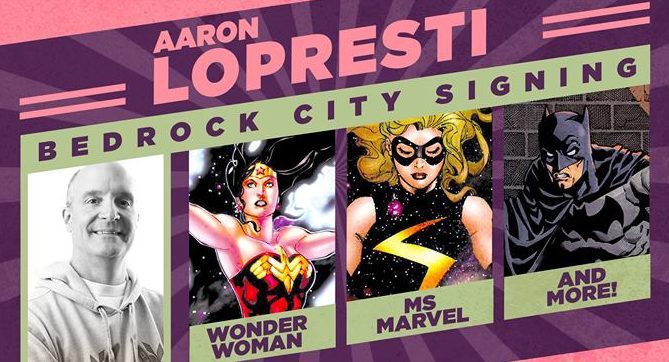 Artist Aaron Lopresti appears at Bedrock City Comic Co. on Saturday, November 3, 2018 from noon till 6 PM for a signing.
Lopresti has worked on a wide variety of characters including: Spider-Man, X-Men, The Hulk, The Avengers, Batman, Plastic Man, Green Lantern, Superboy, Xena, Star Trek, Gen 13, Mystic, Power Cubed, and the self published Atomic Toybox (just to name a few).
Aaron will have prints for $15.00 and some original artwork to sell too.
Aaron just finished a 6-issue Wonder Woman/Conan mini-series with Gail Simone and is currently working on a 3-part Herculoids story for Future Quest Presents #9-11
Bedrock City Comic Co.
6516 Westheimer, Suite D, Houston, TX 77057
(713) 780-0675