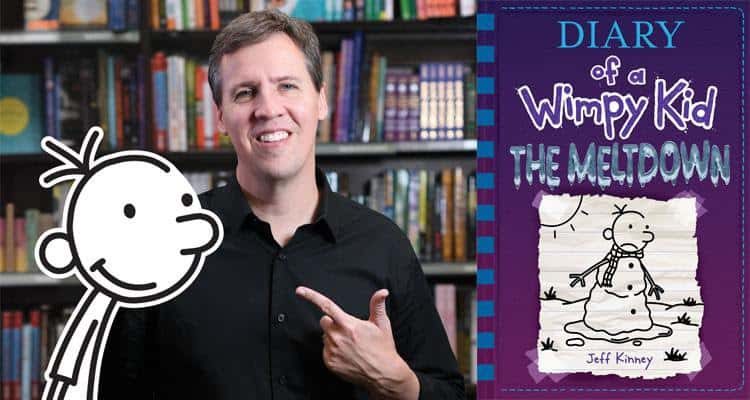 Press Release:
Countdown to The Meltdown! In celebration of the launch of Diary of a Wimpy Kid #13: The Meltdown, join Little Shop of Stories on Wednesday, November 7, 2018 at 7 PM for an imaginative evening at "Wimpy Kid Live: The Meltdown Show," an interactive author experience hosted by Jeff Kinney. This one-hour show is packed full of trademark Wimpy Kid humor, trivia, cartooning, zany audience participation opportunities, and snowball fights. Stick around after the show for a photo with Jeff.
ABOUT THE BOOK:
When snow shuts down Greg Heffley's middle school, his neighborhood transforms into a wintry battlefield. Rival groups fight over territory, build massive snow forts, and stage epic snowball fights. And in the crosshairs are Greg and his trusty best friend, Rowley Jefferson.
It's a fight for survival as Greg and Rowley navigate alliances, betrayals, and warring gangs in a neighborhood meltdown. When the snow clears, will Greg and Rowley emerge as heroes? Or will they even survive to see another day?
ABOUT THE AUTHOR:
Jeff Kinney is a #1 New York Times bestselling author and a six-time Nickelodeon Kids' Choice Award winner for Favorite Book for his Diary of a Wimpy Kid series. Jeff has been named one of Time's 100 Most Influential People in the World. He is also the creator of Poptropica, which was named one of Time's 50 Best Websites. He spent his childhood in the Washington, D.C., area and moved to New England in 1995. Jeff lives with his wife and two sons in Plainville, Massachusetts, where they own a bookstore, An Unlikely Story. For more Wimpy Kid visit wimpykid.com.
First Baptist Church of Decatur
308 Clairemont Ave, Decatur, GA 30030
(404) 373-1653