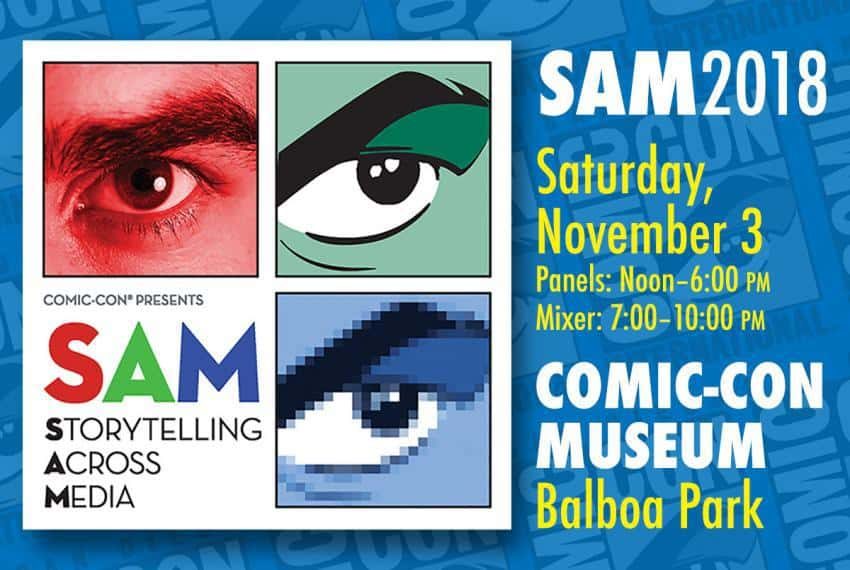 Press Release:
Comic-Con presents SAM, Storytelling Across Media, a one-day symposium for aspiring writers and artists, as well as professionals, interested in the art of storytelling. This event will be held on Saturday, November 3, at the Comic-Con Museum, 2131 Pan American Plaza in Balboa Park, from 12:00 PM to 6:00 PM, with a mixer from 7:00 to 10:00 PM. Admission is FREE, but online registration is encouraged. Seating in all symposium events is limited.
SAM is not your traditional comics convention. There is no Exhibit Hall. SAM is all about storytelling, through a series of talks about how to tell a story in various media, including comics, gaming, animation, movies, and more. It explores the similarities and differences in telling stories through different media and focuses on the craft of telling a story through creator lectures.
San Diego Comic-Con is part of the San Diego Comic Convention family of events. SDCC is a nonprofit educational corporation dedicated to creating awareness of, and appreciation for, comics and related popular artforms, primarily through the presentation of conventions and events that celebrate the historic and ongoing contribution of comics to art and culture.
Registration is available at the link…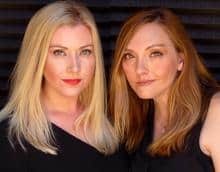 Julie Benson and Shawna Benson
Writers, The 100, Wu Assassins (TV series), Green Arrow (comics series)
Born on the same day, three years apart, Julie and Shawna Benson grew up in Illinois with access to their father's Silver Age comic collection and a mutual love of TV and Film, particularly, sci-fi, westerns, mysteries, and screwball comedies. They've penned episodes of the Emmy-winning webseries, Emma Approved, wrote on Seasons 3 through 5 of The CW's The 100, and are currently co-producers on a new Netflix show, Wu Assassins. They also have written Batgirl and the Birds of Prey and currently write Green Arrow for DC Comics.
Jim Lee
Publisher-CCO, DC Comics; Artist, Justice League, Superman Unchained
Jim Lee is a renowned comic book artist and the Publisher-Chief Creative Officer of DC Entertainment. In addition to his duties as DC's Publisher-Chief Creative Officer, he is the artist for many of DC Comics' best-selling comic books and graphic novels, including All Star Batman and Robin, Superman: For Tomorrow, Justice League: Origin, Superman Unchained, and Suicide Squad. He also served as the Executive Creative Director for the DC Universe Online (DCUO) massively multiplayer action game from Daybreak Games.
J. Michael Straczynski
Writer, Thor, Amazing Spider-Man (comics), Babylon 5, Sense8 (TV), Changeling, World War Z (movies)
J. Michael Straczynski's entire career has been based on storytelling across media. Starting as a journalist for newspapers and magazines (LA Times, TIME Inc, Writer's Digest), he transitioned to animation (He-Man, Real Ghostbusters), live-action TV (Twilight Zone, Babylon 5, Sense8), comics for Marvel, Image, and DC, and movies (Changeling, Thor, World War Z). Along the way, his work has earned him two Hugo Awards, the Eisner, Comic-Con's Inkpot Award and Icon Award, the GLAAD Media Award, the Saturn Award, and a nomination for a British Academy Award (BAFTA) for Changeling.  His autobiography, Becoming Superman, debuts July 28, 2019 from HarperCollins Voyager.