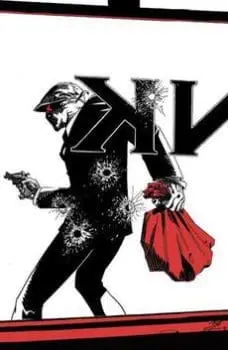 Gerry Duggan, John McCrea, and David O'Sullivan sign DEAD RABBIT #1 (Back to Work variant), ANALOG #1 (Stephen Mooney variant) and ANALOG VOL. 1 at the Forbidden Planet London Megastore on Saturday 20th October from 3:00 – 4:00 PM.
Back in the '90s, DEAD RABBIT was a prolific Boston stick-up man and hoodlum, until he took down one last big score and disappeared. Nobody ever discovered the truth: he retired to be with the love of his life. Now he's back in the mask to save her, but no one- not his wife, the mafia, or the cops – is happy that he's out of retirement.
The story begins in ANALOG #1, where it's five years from now, and the security of the internet has been totally destroyed. Secrets are no longer sent over the web, they're entrusted to armed couriers called 'Ledger Men,' like human punching-bag Jack McGinnis. He's got a gun in one hand and a briefcase handcuffed to the other. Danger lurks around every corner, and Jack has to watch his back-because he had a part in the cyber attack that changed the world. Get in on the ground floor of this new ongoing series and thrill as we slam Jack's fist into the faces of spies, mercs, fascists, and eventually less punchable adversaries like a very grumpy artificial intelligence.
ANALOG VOL. 1 tells the full story, and takes us to 2024 where the world has been mass-doxxed, and the internet is only for porn. Every email, photo, and document ever sent rains down out of the cloud, and only a fool would send a secret over the web. This is the era of the 'Paper Jockeys': armed couriers with a briefcase of secrets who'll get your sensitive information around the globe or die trying.
Human punching bag Jack McGinnis and his partner Oona are two of the best couriers in the business. For a price, they'll move your sensitive information where it needs to go as they fight off fascists, criminals, and spies.
Forbidden Planet London Megastore
179 Shaftesbury Avenue, London, WC2H 8JR
0207 420 3666