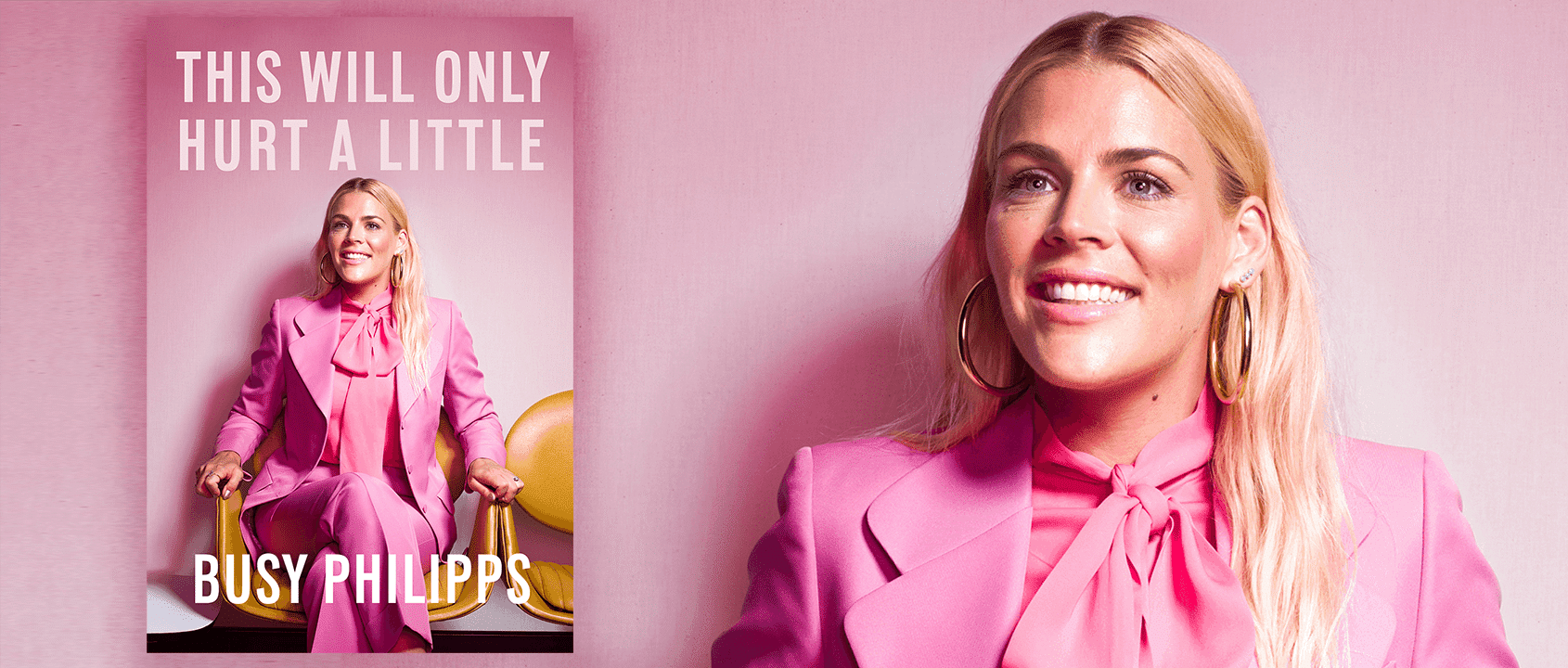 Harvard Book Store welcomes actress and writer Busy Phillips—best known for her roles in Freaks & Geeks, Dawson's Creek, Cougar Town, and ER (and for her candid and hilarious Instagram stories)— to the Back Bay Events Center on Friday, October 19, 2018 at 7:30 PM for a discussion of her debut memoir, This Will Only Hurt a Little.
Please Note
This event does not include a book signing or meet-and-greet with the author, but all pre-sale tickets include a personally pre-signed copy of This Will Only Hurt a Little.
About This Will Only Hurt a Little
There's no stopping Busy Philipps. From the time she was two and "aced out in her nudes" to explore the neighborhood (as her mom famously described her toddler jailbreak), Busy has always been headstrong, defiant, and determined not to miss out on all the fun. These qualities led her to leave Scottsdale, Arizona, at the age of nineteen to pursue her passion for acting in Hollywood. But much like her painful and painfully funny teenage years, chasing her dreams wasn't always easy and sometimes hurt more than a little.
In this stunningly candid memoir, Busy opens up about chafing against a sexist system rife with on-set bullying and body shaming, being there when friends face shattering loss, enduring devastating personal and professional betrayals from those she loved best, and struggling with postpartum anxiety and the challenges of motherhood.
But Busy also brings to the page her sly sense of humor and the unshakeable sense that disappointment shouldn't stand in her way—even when she's knocked down both figuratively and literally (from a knee injury at her seventh-grade dance to a violent encounter on the set of Freaks and Geeks). The rough patches in her life are tempered by times of hilarity and joy: leveraging a flawless impression of Cher from Clueless into her first paid acting gig, helping reinvent a genre with cult classic Freaks and Geeks, becoming fast friends with Dawson's Creek castmate Michelle Williams, staging her own surprise wedding, conquering natural childbirth with the help of a Mad Men–themed hallucination, and more.
Busy is the rare entertainer whose impressive arsenal of talents as an actress is equally matched by her storytelling ability, sense of humor, and sharp observations about life, love, and motherhood. Her conversational writing reminds us what we love about her on screens large and small. From film to television to Instagram and now to the page, Busy delightfully showcases her wry humor and her willingness to bare it all.
Back Bay Events Center
180 Berkeley St, Boston, MA 02116