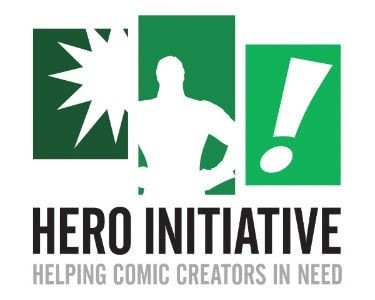 Press Release: 
The Hero Initiative, the charity dedicated to helping comic book creators in medical or financial need, is travelling to Baltimore Comic Con on September 28-30th at the Baltimore Convention Center.
Hero will be the EXCLUSIVE home of a number of top creators at the con! Marc Andreyko (Batwoman), Tom DeFalco (Spider-Girl), Tom Grummett (Superman), Karl Kesel (Superman), Dennis O'Neil (Green Lantern/Green Arrow, Batman), John Ostrander (Suicide Squad), and Adam Warren (Empowered) will all be found at the Hero Initiative booth ONLY! They'll be sketching and signing all weekend, so don't miss out!
And as part of the 'Ringo Awards on Saturday, September 29th at the con, Hero's Lifetime Achievement and Dick Giordano Humanitarian of the Year Awards will be presented! Not to be missed!
And please check out Hero Initiative Ambassadors on the con floor! Howard Chaykin, Jose Luis Garcia-Lopez, Barry Kitson, Tom Raney, Louise Simonson, Walter Simonson and many more will have their Hero Initiative donation jars out collecting for the cause. Please visit them!
About The Hero Initiative
The Hero Initiative is the first-ever federally chartered not-for-profit corporation dedicated strictly to helping comic book creators in need. Hero Initiative creates a financial safety net for yesterday's creators who may need emergency medical aid, financial support for essentials of life, and an avenue back into paying work. It's a chance for all of us to give back something to the people who have given us so much enjoyment.
Since its inception, The Hero Initiative has had the good fortune to grant over $1 million to the comics' veterans who have paved the way for those in the industry today. For more information, visit www.heroinitiative.org or call 626-676-6354.