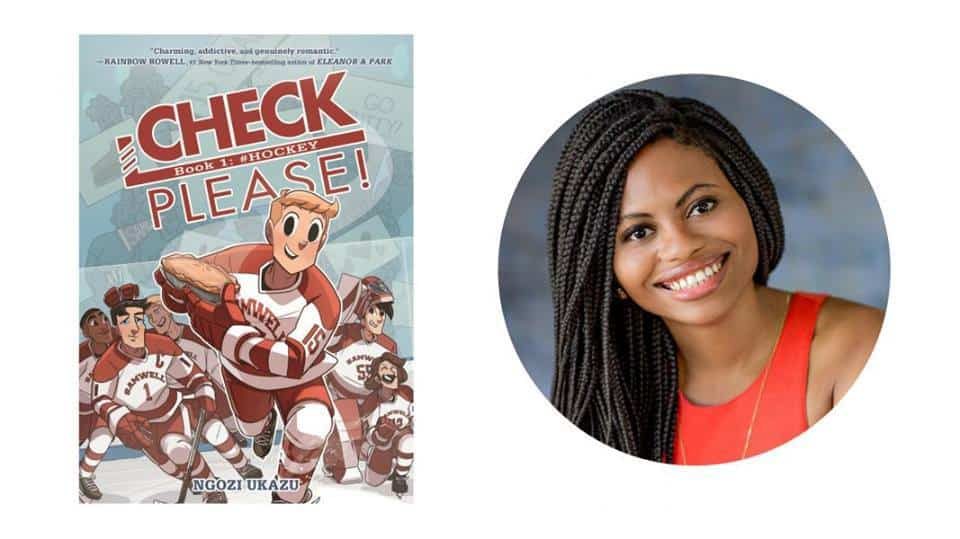 Ngozi Ukazu appears at BookPeople on Sunday, September 23rd at 2:00 PM to celebrate the massively popular online web-comic Check Please, now published as a graphic novel.
ABOUT CHECK, PLEASE!
The hilarious and heartbreaking confessions of a figure skater turned collegiate hockey player who's terrified of checking . . . and is desperately in love with the captain of his hockey team
Eric Bittle is a former Georgia junior figure skating champion, vlogger extraordinaire, and amateur pâtissier. But as accomplished as he is, nothing could prepare him for his freshman year of playing hockey at the prestigious Samwell University in Samwell, Massachusetts. It's nothing like co-ed club hockey back in the South! For one? There's checking. Second, there is Jack—his very attractive but moody captain.
A collection of the first half of the mega-popular webcomic series of the same name, Check, Please!: # Hockey is the first in a hilarious and stirring two-volume coming-of-age story about hockey, bros, and trying to find yourself during the best four years of your life.
ABOUT NGOZI UKAZU
Ngozi Ukazu is the creator of Check, Please!, a massively popular online graphic novel. She graduated from Yale University in 2013 and received a master's in sequential art in 2015 from the Savannah College of Art and Design. While she used her intensive knowledge of ice hockey to launch Check, Please! in 2013, Ngozi has a deep interest in sports that ranges from half-marathon training to basketball documentaries. Ngozi also cites '90s sitcoms as a major influence in the quirky, found-family feel of Check, Please!
To get a book signed at one of our events, a copy of the event book must be purchased from BookPeople. By purchasing a book from BookPeople, you are not only supporting a local, independent business, but you are also showing publishers that they should continue sending authors to BookPeople.
BookPeople
603 N Lamar Blvd, Austin, TX 78703
(512) 472-5050