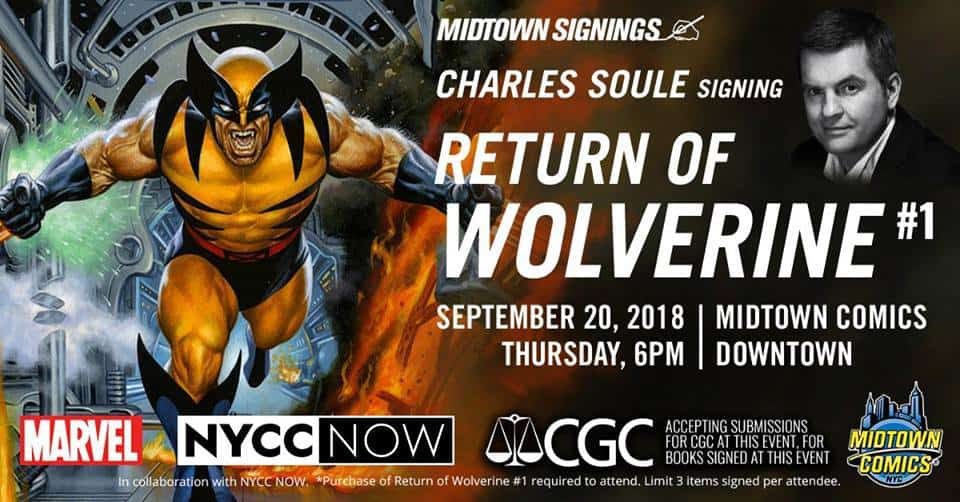 Writer Charles Soule (Daredevil, Darth Vader, Poe Dameron) joins us from Midtown Comics Downtown on Thursday, September 20th at 6 PM to celebrate the release of Return of Wolverine #1! This is an open signing and we recommend showing up early, just to be safe. Purchase of Return of Wolverine #1 required. Limit 3 items signed per attendee. 
There will be a CGC representative to grade books signed at this event.
Any previously signed books are not eligible for this service.
Cost of CGC is $10.00 + CGC grading fee (This does not include the cost of purchasing the books)
CGC books will be shipped to CGC offices for grading and will take 17-35 days for them to return, in the CGC protective slab. This is determined based on which options are chosen for CGC grading and shipping.
Additional Promotion presented by NYCC! More info soon!
The man known as Wolverine has been thought dead for years, buried in a molten mass of Adamantium. But after escaping his metallic tomb, a worldwide chase has revealed the true fate of Logan! Now, Canada's greatest hero is back in the Marvel Universe and putting the world on notice! Where has he been? How did he get an Infinity Stone? What role does he have to play in the days to come? And why has he chosen now to reveal himself? Writer Charles Soule and artist Steve McNiven bring back the hero they laid to rest with Return of Wolverine!
Midtown Comics Downtown
64 Fulton Street, New York, New York 10038
(212) 302-8192