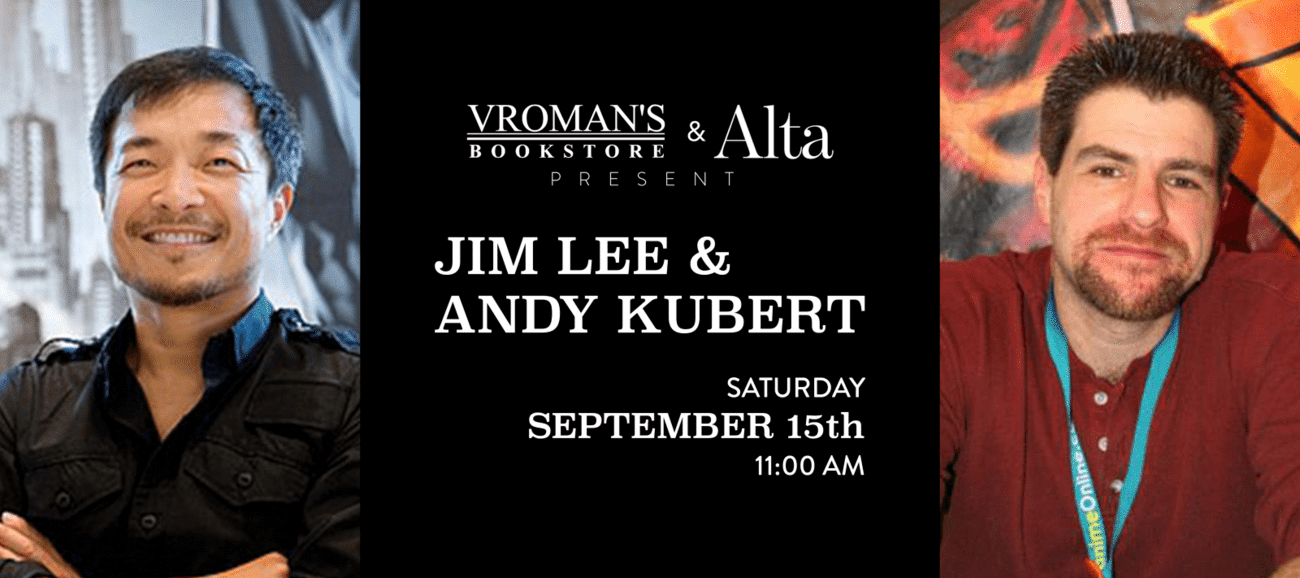 Jim Lee and Andy Kubert appear at Vroman's Bookstore on Saturday, September 15, 2018 from 11 AM – 1 PM to celebrate BATMAN DAY!!
This Event Will Be A Signing Only!
Fans MUST purchase a copy of Dark Days: The Road to Metal OR Dark Nights: Metal: Deluxe Edition OR Batman: The Dark Knight: Master Race from Vroman's Bookstore in order to receive a signing line ticket. With purchase of one of those three titles fans may get a maximum of two(2) other items signed.
The signing line will be limited to 150 fans ONLY due to Jim and Andy's busy schedule.
Our Will Call department will be handling all purchases of Dark Days: The Road to Metal OR Dark Nights: Metal: Deluxe Edition OR Batman: The Dark Knight: Master Race for the signing starting on Tuesday September 11. NO ONLINE ORDERS WILL BE ACCEPTED FOR THIS EVENT. Customers must make your purchase at our Will Call window or over the phone and let them know it is for the Batman Day/Jim Lee/Andy Kubert event to receive a ticket to be in the signing line on September 15.
Signing line tickets will be available opening on Tuesday September 11. You cannot receive a signing line ticket if you purchase the pre-determined books before this date. The signing will begin promptly at 11am and end at 1pm.
Jim Lee, a world-renowned comic book artist, writer, editor and publisher, is currently Chief Creative Officer of DC Entertainment (DC) and serves as Publisher of the company alongside Dan DiDio. Known for his incredibly detailed and dynamic artistic style, Lee is one of the most revered and respected artists in American comics. A veritable legend in the industry, he has received numerous accolades and recognition for his work, including a Harvey Award, an Inkpot Award, Diamond Gemstone Awards and Wizard Fan Awards.
Andy Kubert began his career at DC comics illustrating the first highly successful BATMAN VERSUS PREDATOR and ADAM STRANGE series. Andy went on to Marvel Comics' popular X-Men title, which was consistently a sales juggernaut and remained their top-selling comic during his six-year run. At Marvel he also illustrated such titles as Ghost Rider, Captain America, Ultimate X-Men and the Marvel 1602 miniseries in which he collaborated with New York Times best-selling author Neil Gaiman and which earned a 2005 Quill Award for Best Graphic Novel.
Vroman's Bookstore
695 E. Colorado Blvd Pasadena, CA 91101
(626) 449-5320