Press Release:
The Granite State Comicon returns to the Center of New Hampshire in downtown Manchester September 8th & 9th for two days of comics, cosplay, celebrities, gaming and more! Now in its 16th year the Granite State Comicon is one of New England's longest running comic book conventions.
This year's special guests include Carroll Spinney the man behind Big Bird and Oscar the Grouch. Mr Spinney is celebrating 50 years of Sesame Street. He will be retiring from appearances at the end of the year making this one of the last opportunities to meet this legend of children's entertainment!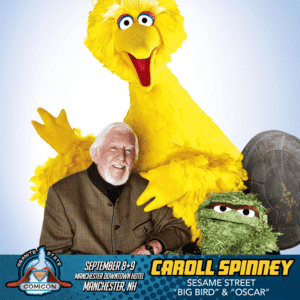 Also appearing at the Granite State Comicon is actor Doug Jones. Doug is known for his unique creature work in the films Hellboy, Pan's Labyrinth and the Oscar-winning The Shape of Water.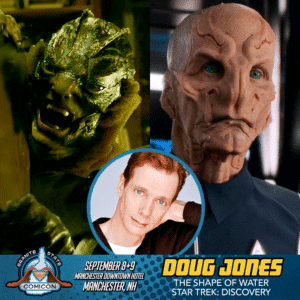 Other Media Guests include:
Damon Runyan – Star Trek: Discovery
Sara Mitich – Star Trek: Discovery
Sam Vartholomeos – Star Trek: Discovery
Steve Whitmire – Sesame Street
Butch Patrick – The Munsters
Jyoti Amge – American Horror Story: Freak Show
While the Granite State Comicon has grown over the years to encompass various facets of pop culture the convention is proud to keep a focus on comic books with a variety of local and nationally renowned artists. Attendees can meet and buy artwork from artists and participate in panels including the always popular sketch off!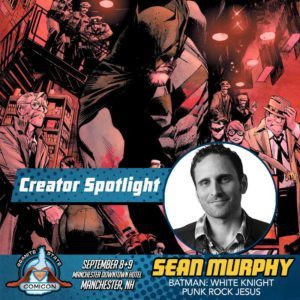 This year the Granite State Comicon is proud to welcome writer/artist Sean G. Murphy who just finished the white hot series Batman White Knight. Originally from Nashua, NH Murphy has become one of the hottest creators in the industry! Sean will be on hand Saturday only to meet fans.
Other Comic Creators include:
Simon Bisley
Ken Lashley
Tana Ford
Stephane Roux
Corin Howell
Dexter Vines
Ben Bishop
Christian DiBari
Joe Eisma
Steve Lavigne
Ricardo Lopez Ortiz
Ed Smith
Bill Walko
Rich Woodall
There is much to see and do at the Granite State Comicon throughout the weekend. Some of the popular events include video game tournaments as performances the Nerd Magician and the improv comedy group Dorks in Dungeons. New for 2018 is the Granite Game Summit gameroom featuring hundreds of board games and superhero yoga! Attendees can meet and take pictures with their favorite costumed characters from Star Wars, Ghostbusters, Pirates of the Caribbean, Marvel & DC comics and many more!
The Granite State Comicon is truly a family friendly event featuring a Kids Zone organized by Kids Con New England. The Kids Zone features a variety of activities including coloring, how
to draw classes, crafts and meet and greets with princesses and superheroes! Other famly friendly events include a kids costume contest on Sunday, Wonder Woman yoga, video game tournaments and more! All activities are included with the price of admission and kids 10 and under get in FREE with paid adult admission!
For additional information on the Granite State Comicon or a current list of guests and events please visit www.granitecon.com.