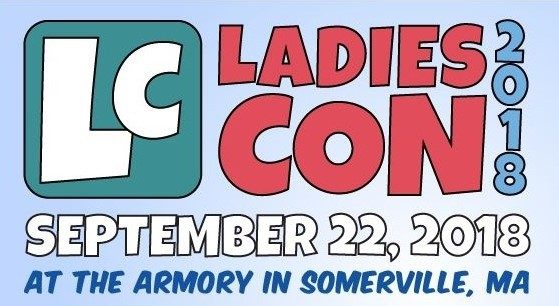 Press Release:
The Ladies of Comicazi, who represent an inclusive community devoted to consuming, critiquing, and creating comics and pop culture, are teaming up with their homebase, Comicazi, to bring the third annual LadiesCon to the Armory on September 22, 2018.
Guests include Marjorie Liu – Eisner and Hugo award winner and author of Monstress, Erica Henderson – winner of two Eisner awards and artist on Unbeatable Squirrel Girl,  Kristen Gudsnuk – creator of Henchgirl and upcoming graphic novel Making Friends, and Ming Doyle – writer and artist on Constantine and artist for DC Comics upcoming Anatomy of a Metahuman.
The free one-day show will present writers, artists, creators, and artisans specializing in comics, fantasy, and science fiction, with a particular emphasis on creators who identify as women, LGBTQ, non-binary, and people of color, as well as local artists. Attendees will have the chance to meet creators, buy books and crafts, and see panels on a variety of topics, including Latinos and Natives in comics, the history of fandom, and nerdy knitting.
Last year's show attracted 600 attendees to The Armory, and this year promises to be even bigger and better, with an estimated 1,000 visitors.
Anyone interested in volunteering before or after the con, please check out this form: https://goo.gl/forms/yipFxRay2fXc2Qhy2
The show will run from 11-5 on Saturday, September 22. For more information, please visit www.ladiescon.com.